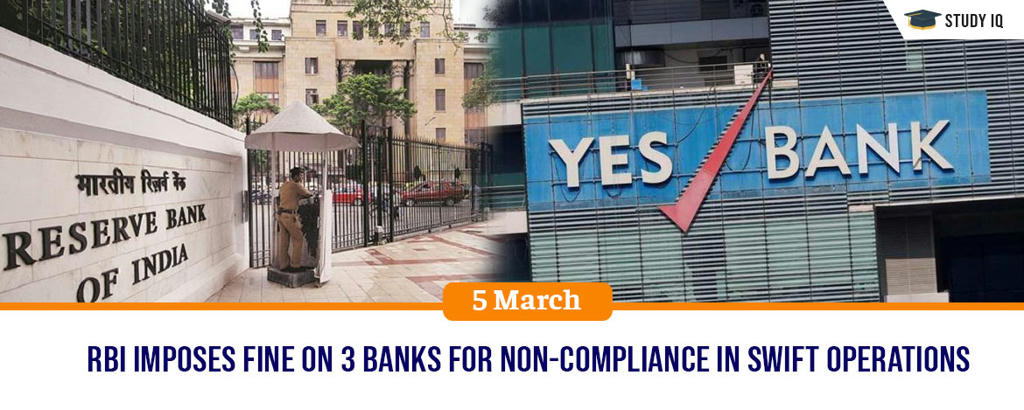 RBI imposes fine on 3 banks for non-compliance in Swift operations
Date: 05 March 2019
Tags: Banking Laws & Regulations
Reserve Bank of India (RBI) has imposed total monetary fine of Rs. 8 crore on three banks - Karnataka Bank (Rs. 4 crore), United Bank of India (R. 3 crore) and Karur Vysya Bank (Rs 1 crore) for non-compliance of directions on SWIFT global inter banking messaging software.
Reasons for Fine
The penalty was imposed on these bank for non-compliance with and contraventions of directions contained in RBI circular on time-bound implementation and strengthening of SWIFT-related operational controls.
Background
Post Punjab National Bank (PNB) fraud, which came to light in February 2018, RBI has been tough on banks to tighten all kind of their transactions. The massive Rs 14,000 crore fraud at PNB was case of misuse of SWIFT messsaging software.
SWIFT
Society for Worldwide Interbank Financial Telecommunications (SWIFT) was founded in 1973 and is headquartered in La Hulpe, Belgium.

It is used to transmit messages relating to cross border financial transactions.

It is global financial messaging service/network that enables financial institutions worldwide to send and receive information about financial transactions in secure, standardized and reliable environment.

It assigns each financial organization unique code that has either eight characters or 11 characters.

The code is interchangeably called bank identifier code (BIC), SWIFT code, SWIFT ID, or ISO 9362 code.