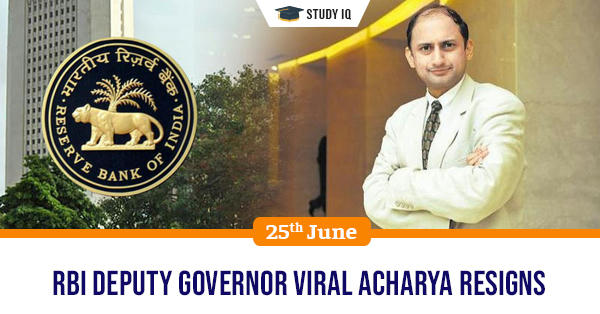 RBI Deputy Governor Viral Acharya resigns
Date: 25 June 2019
Tags: Banking People in News
Reserve Bank of India (RBI) Deputy Governor Viral Acharya has resigned from his position six months before the end of his term citing to "personal reasons". His departure comes just little more than six months after the resignation of Urjit Patel from the post of RBI Governor. RBI now has left with three Deputy Governors — N.S. Vishwanathan, B.P. Kanungo and M.K. Jain.
About Viral Acharya
He had joined RBI in January 2017 and was its youngest Deputy Governor, post economic liberalization. As Deputy Governor of RBI, he was in charge of monetary policy department.

He was strong votary of RBI's independence and is known for taking hawkish stance by differing with Governor Shaktikanta Das on on inflation trajectory, growth prospects and reduction of policy rates.

With his resignation, composition of the monetary policy committee (MPC) will progressively turn more dovish as he was on the more hawkish side.

In October 2019, he also had created a controversy by strongly alluding to encroachment on autonomy of RBI by the government.