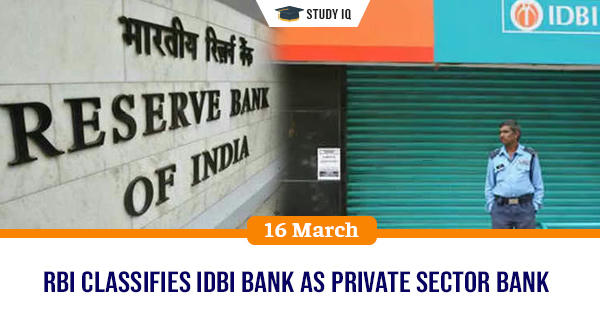 RBI classifies IDBI Bank as Private Sector Bank
Date: 16 March 2019
Tags: Banking Schemes & Policies
Reserve Bank of India (RBI) has categorised IDBI Bank Limited as 'Private Sector Bank' for regulatory purposes with effect from January 21, 2019. This comes after acquisition of 51% stake (total paid-up equity share capita) of IDBI by Life Insurance Corporation of India (LIC).
Other public sector banks category
With this, IDBI has been removed from 'Other public sector banks' category. It was categorised in this sub-group by the RBI in April 2005. This categorisation was rendered by RBI on the basis of assurance given by then Finance Minister to Parliament in December 2004 (during discussion on Repeal Bill 2003) that government holding in IDBI Ltd will always be above 51%.
Background
LIC in January 2019 had completed process acquiring 51% stake in IDBI Bank. This deal was concluded after final approval of Union Cabinet in August 2018. As part of this deal, Union Cabinet had approved reduction of Central Government shareholding in IDBI Bank Limited below 50% stake by dilution of its existing shareholding. The acquisition was done through strategic disinvestment i.e. preferential allotment or open offer of equity and relinquishment of management control of Government.