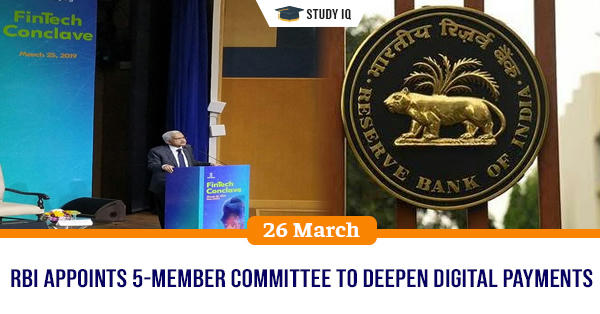 RBI appoints 5-member committee to deepen digital payments
Date: 26 March 2019
Tags: Financial Inclusion, Banking Committees
Reserve Bank of India (RBI) has appointed a five-member committee under the chairmanship of Nandan Nilekhani to strengthen and encourage digital payments and enhance financial inclusion through digitization. It was announced by RBI Governor Shaktikanta Das at the first event of Financial Technology (Fintech) Conclave, which was organized by NITI Aayog in New Delhi.
Composition of Committee
It will be headed by Nandan Nilekani, Former Chairman, Unique Identification Authority of India (UIDAI). Other members are former Deputy Governor of RBI - H.R. Khan, former Secretary, Ministry of Information Technology and Steel - Aruna Sharma, former MD&CEO of Vijaya Bank - Kishore Sansi, Chief Innovation Officer, Center for Innovation, Incubation & Entrepreneurship (CIIE), IIM Ahmedabad - Sanjay Jain.
Terms of Reference of Committee
It will review existing status of digitization of payments in the country and identify current gaps in digital payment ecosystem and suggest ways to bridge them.

It will assess the current levels of digital payments in financial inclusion.

It will undertake global analyses with view to identify best practices that can be adopted in India to accelerate digitization of economy and financial inclusion through greater use of digital payments.

It will suggest measures to strengthen safety and security of digital payments.

It will provide road map for increasing customer confidence and trust while accessing financial services through digital modes.

It will suggest a medium-term strategy for deepening of digital payments.
Digital payment
It is way of payment either to send or receive money through digital modes. In digital payments, both payer and payee use digital modes to send and receive money. It is also called electronic payment (e-payment). Besides, no hard cash is involved and all the transactions are completed online. Some of popular modes of digital payments in India are Banking cards, UPI, mobile wallets, mobile banking, internet banking, point of sale (pos) etc.
According to report by Credit Suisse on India's financial sector, cash share in India is still estimated at 70% in value terms and digital payments currently aggregate only $200 billion, compared with $5-trillion mobile payments in China. However, payment integration into popular apps in India in future will drive digital payment market in the country to around $1 trillion over the next five years.