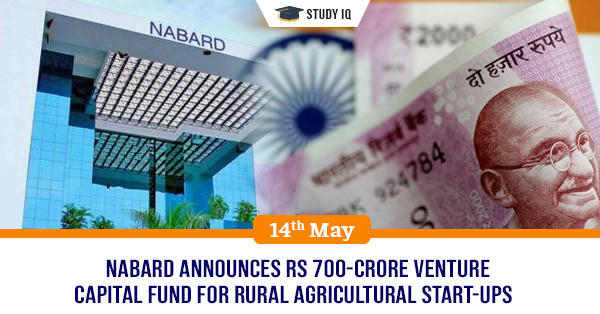 NABARD announces Rs 700-crore venture capital fund for rural agricultural start-ups  
Date: 14 May 2019
Tags: Banking Schemes & Policies
National Bank for Agriculture and Rural Development (NABARD) has announced Rs. 700 crore venture capital fund for equity investments in agriculture and rural focused start-ups. This is first of its kind VC fund launched by NABARD, even though it contributes to other funds.
NABARD VC fund
It was launched by Nabventures, an auxiliary unit of NABARD. It has proposed amount of Rs 500 crore with option to retain over-subscriptions of Rs 200 crore (called-shoe option ). With this fund, NABARD will assist those start-ups who are engaged in agriculture, food and rural development space.
Benefits
The fund will help to boost rural economy. It will have high impact as it will provide a boost to investment ecosystem in the core areas of agriculture, food and improvement of rural livelihoods. It will help to generate employment as well as new market to the country. It will automatically improvise rural financial condition.