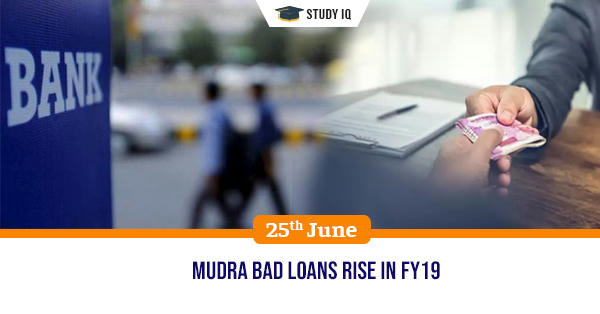 MUDRA bad loans rise in FY19
Date: 25 June 2019
Tags: Banking Schemes & Policies
Gross Non Performing Assests under Pradhan Mantri Mudra Yojana (PMMY) has rose by 68.7% to Rs 16,480.87 crore in financial year 2019 from Rs 9,769 crore a year-ago. However, bad loans under MUDRA scheme are much lower than total system-wide NPAs. The banking sector's gross NPAs declined to 9.3% in March 2019 from 11.5 per cent the year before.
MUDRA NPAs
They accounted for 5.28% of the total disbursements of Rs 311,811 crore as of March 2019 as compared to 3.96% of total disbursements of Rs 246,437 crore in the previous year. NPAs were Rs 8,501.68 crore in 2016-17. Of the total disbursements, as much as 41.42% (or Rs 129,153 crore) loans, are taken by women. In the financial year 2018-19, 3.706 crore women entrepreneurs benefitted from MUDRA loans.
Reasons for MUDRA NPAs: Loan waivers by state governments, credit crunch in the MSME sector after demonetisation and ambitious targets to push up lending to sector are among several factors that led to the rise in defaults.
About Pradhan Mantri Mudra Yojana
It was launched by Cental Government in 2015 to loan up to 10 lakh to the non-corporate, non-farm small/micro enterprises engaged in manufacturing, trading and Services sector including allied agricultural activities.

The loans under it are offered through commercial banks and financial institutions (RRBs, Small Finance Banks, Cooperative Banks, MFIs and NBFCs) refinanced through the Micro Units Development and Refinance Agency (MUDRA) Bank.

Mudra loans are provided to eligble enterpriese under three categories: (i) Shishu: up to Rs 50,000. (ii) Kishore: loans between Rs 50,001-Rs 5 lakh. (ii) Tarun: Loans between Rs 5,00,001 and Rs 10 lakh category.