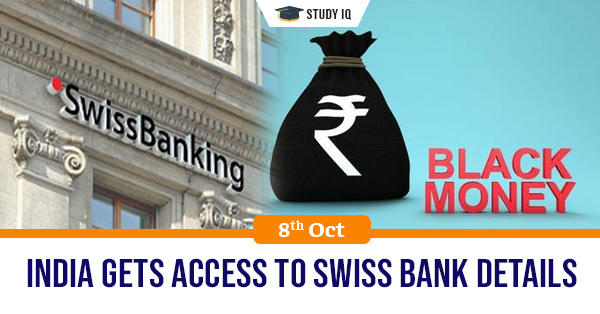 India gets access to Swiss bank details
Date: 08 October 2019
Tags: Banking Agreements
Issue
India has got first tranche of Swiss bank account details of its nationals under a new automatic information exchange pact.
Background
India is among 75 countries with which Switzerland's Federal Tax Administration (FTA) has exchanged information on financial accounts within the framework of global standards on AEOI. This is a major milestone in government's fight against black money.
Details
This is the first time that India has received details from Swiss authorities under the AEOI framework, which provides for exchange of information on financial accounts and the details of assets owned by Indian clients are not revealed.

The details include name, address, state of residence and tax identification number, as well information concerning the financial institution, account balance and capital income.
Benefits
The data received by India can be quite useful for establishing a strong prosecution case against those who have any unaccounted wealth, as it provides entire details of deposits and transfers as well as of all earnings, including through investments in securities and other assets.
AEOI
The Common Reporting Standard (CRS) is an information standard for the Automatic Exchange Of Information (AEOI) regarding bank accounts on a global level, between tax authorities, which the Organisation for Economic Co-operation and Development (OECD) developed in 2014.
Information shared
Name, address, Taxpayer Identification Number (TIN) and date and place of birth of each Reportable Person.

Account number

Name and identifying number of the reporting financial institution;

Account balance or value as of the end of the relevant calendar year (or other appropriate reporting period) or at its closure, if the account was closed.

Capital gains, depending on the type of the account (dividends, interest, gross proceeds/redemptions, other)