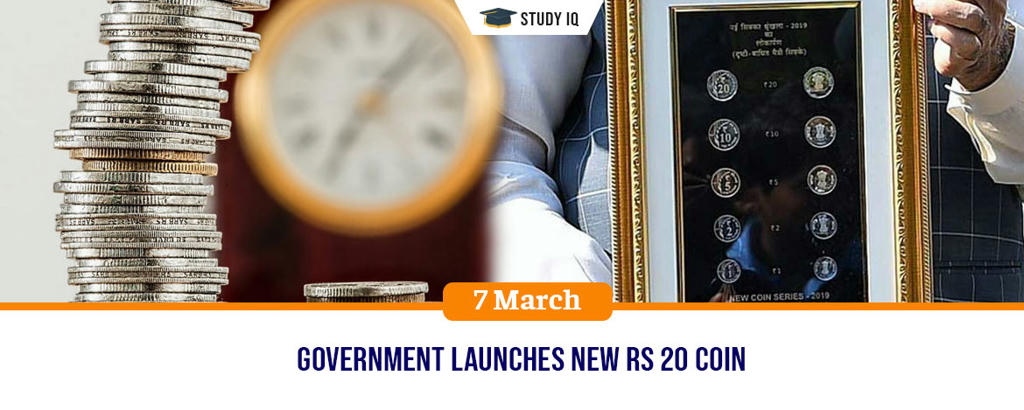 Government launches new Rs 20 coin
Date: 07 March 2019
Tags: Banking Schemes & Policies
Union Finance Ministry in a gazette notification to roll out Rs 20 coin for the first time in the country. It also announced to release new series of visually impaired friendly circulation coins of Re 1, Rs 2, Rs 5 and Rs 10.
Features of Rs. 20 Coin
It is shaped like 12-edged polygon (dodecagon). Its outside diameter is 27mm (millimeters) and weighs around 8.54 grams.

Composition:

It will be 65% copper, 15% zinc and 20% nickel for outer ring. Its inner ring (centre piece) will be 75% copper, 20% zinc and 5% nickel.

Obverse (face) side:

It will bear Lion Capitol of Ashoka Pillar with legend "Satyamev Jayate" inscribed below.

It is flanked on left periphery with word "Bharat" in Hindi and on right periphery with the word "INDIA" in English.

Reverse side:

It will bear denominational value "20". It will have rupee symbol above the denominational value.

On left periphery it will have design of grains depicting agricultural dominance of the country.

Top right and bottom right peripheries will bear word Rs 20 in Hindi and "TWENTY RUPEES" in English

The year of minting in international numerals will be shown on centre of left periphery of coin.
Note: Unlike circular Rs 10 coin, the new Rs 20 coin will not have any marks on its edges. But, like Rs. 10 coin, it will be two-toned with a similar diameter. Reserve Bank of India (RBI) had issued the first Rs 10 coin nearly 10 years ago in March 2009.
Background
As per Coinage Act, 1906, Union Government has sole right to mint coins and responsibility for coinage vests with Government (i.e. Union Finance Ministry).

But coins are issued for circulation only through Reserve Bank of India in terms of the RBI Act.

Designing and minting of coins in various denominations is also responsibility of Government.

At present, coins are minted at four India Government Mints at Mumbai (Maharashtra), Alipore (Kolkata-West Bengal), Saifabad (Hyderabad, Telangana), Cherlapally (Hyderabad, Telangana) and Noida (Uttar Pradesh).