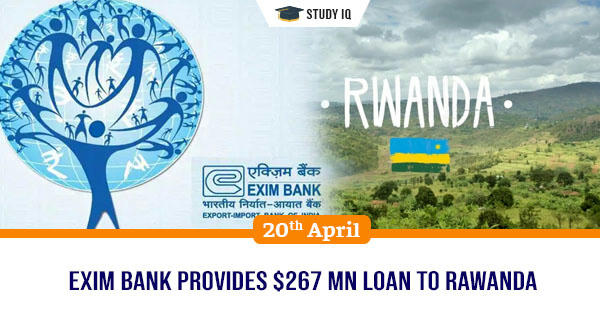 Exim Bank provides $267 mn loan to Rawanda
Date: 20 April 2019
Tags: Basic Concepts
Reserve Bank of India (RBI) has notified that Exim Bank has provided soft loans worth US $266.60 million to Rawanda for various projects. The funding will be done in three separate tranches to support agricultural projects, development of special economic zones (SEZs) and financing road project in Rawanda.
Exim Bank will provide
US $100 million for financing development of two SEZs and expansion of Kigali SEZ in Rwanda.

US $100 million for financing three agriculture project schemes- Warufu Multipurpose Project, Mugesera Irrigation Project and Nyamukana Irrigation Project.

US $66.60 million to fund Base-Butaro-Kidaho Road Project.
EXIM Bank
It is premier export finance institution owned completely by Government of India (GoI) for financing, facilitating and promoting foreign trade of India.

It was setup in 1982 under Export-Import Bank of India (EXIM) Act to promote the Indian exports. It is headquartered in Mumbai, Maharashtra.

It assists Industries across wide avenues like export product development, export production, export marketing, import of technology, pre-shipment and post-shipment and overseas investment.

It also extends LoC to overseas sovereign governments, financial institutions, regional development banks and other entities abroad.

It enables buyers in those countries for developmental and infrastructure projects, import of equipment, goods and services from India on deferred credit terms.

It also facilitates investment by Indian companies abroad for setting up joint ventures, subsidiaries and for overseas acquisitions.

So far it has 245 LoCs in place, covering 63 countries in Africa, Latin America, Asia and Commonwealth of Independent States (CIS) with credit commitments of around US $24.24 billion, available for financing exports from the country.