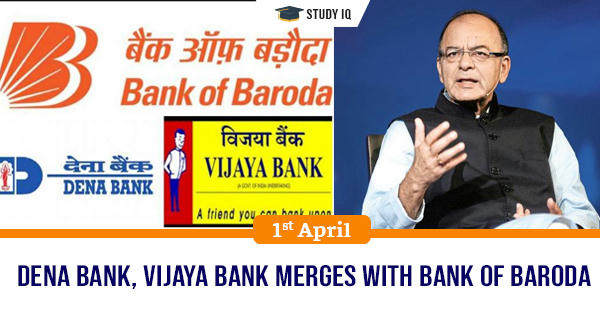 Dena Bank, Vijaya Bank merges with Bank of Baroda
Date: 01 April 2019
Tags: Banking Laws & Regulations
The merger of Vijaya Bank and Dena Bank with Bank of Baroda (BoB) came into force April 1, 2019. It marks first-ever three-way merger in India's banking sector. With this, merged Bank of Baroda became India's second largest public lender after State Bank of India (SBI) and overall third largest after SBI and ICICI Bank. Post this merger, number of Public Sector Banks came down to 19. As per Reserve Bank of India (RBI), all branches of Vijaya Bank and Dena Bank, henceforth will function as branches of Bank of Baroda. Customers of these two merged banks will be treated as customers of Bank of Baroda.
Background
'Scheme of Amalgamation' or merger of Vijaya Bank and Dena Bank with Bank of Baroda was first announced in September 2018. It was approved by Union Cabinet chaired by Prime Minister in January 2019.

The merger of these three state-owned banks was done as part of government's agenda of consolidation of public sector banks.

It was proposed by Alternative Mechanism headed by Arun Jaitley to tackle issue of bad loans plaguing the sector and revive credit growth.

Alternative Mechanism had suggested idea of amalgamating one weak bank and two strong banks rather that merger of weak banks in order to create entity which is able to increase banking operations.
Significance of merger/amalgamation
The merged bank now has balance sheet size of over Rs. 15 lakh crore — with deposits worth of Rs 8.75 lakh crore and advances worth Rs 6.25 lakh crore.

The combined entity has customer base of 120 million, 85,000 employees, over 9,500 branches and 13,400 ATMs.

The merger will help to create strong globally competitive bank with economies of scale. It will result in substantial rise in operational efficiency, market reach, customer base and wider bouquet of products and services.

The merged entity i.e. BoB will have better financial strength. It will enable realisation of synergies for low-cost deposits, networks and subsidiaries of these three PSBs.

It will place merged entity on Finacle Core Banking Solution (CBS), a platform that helps banks enhance agility and efficiency of operations, while significantly improving customer experience across channels.