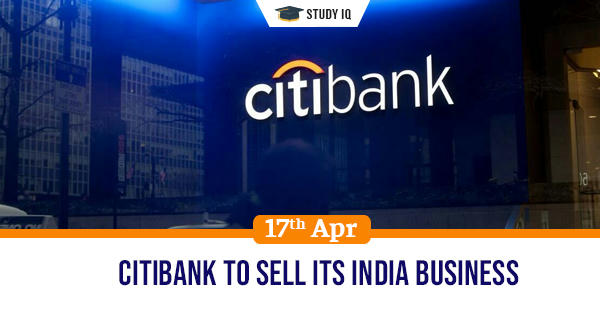 CitiBank to sell its India business
Date: 17 April 2021
Tags: miscellaneous
Issue
Major US bank Citigroup has announced that it is exiting from the consumer banking business in India.
Background
The move is part of its global strategy to focus on institutional banking rather than the existing consumer banking.
Details
The group has said that it will sell its retail accounts and credit cards business. However, there will not be closure of any office or staff layoff. It will also retain its management and institutional business.

It has a market share of 6% in retail credit card spending in the country. It serves about 3 million customers across the country.
Reason for selling
The profits under the consumer banking business are undergoing stress and it will require lot more capital to run the business.
Opportunities
The new acquirer of Citibank business will get high net worth of existing clients and bank accounts. In addition, it offers other benefits such as high quality SOPs, trained staff and product improvement capabilities.
Potential buyers
There are high chances that a single entity cannot buy the complete operations due to various issues.

They might use 'Sum of The Parts' valuation approach where individual buyers can bid and acquire a particular business in parts.