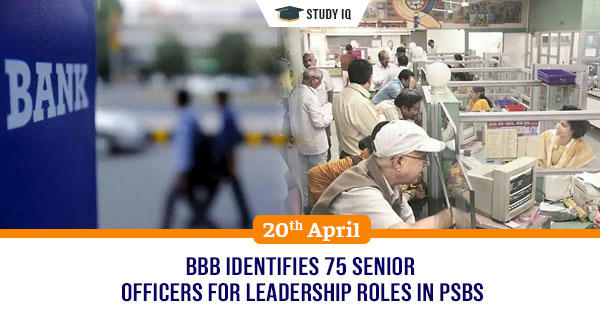 BBB identifies 75 senior officers for leadership roles in PSBs
Date: 20 April 2019
Tags: Banking Committees
Banks Board Bureau (BBB) has identified 75 senior management officers of Public Sector Banks (PSBs) from a pool of 450 people to take over leadership role in the future. It was notified by BBB in its activity report for October 2018-March 2019 period.
Report Highlights
BBB has identified 75 senior officers for leadership roles in nationalised banks take on the emerging challenges.

Soon it will identify globally ranked Indian institution where every year the identified personnel will undergo intensive training.

It has made case for giving complete autonomy to banks to decide organisational structure for better efficiency.

It also suggested revamping credit governance architecture in nationalised banks to minimise credit costs and enhance efficiency of credit allocation.
Banks Board Bureau (BBB)
It is autonomous body of Central Government tasked to improve governance of Public Sector Banks (PSBs), recommend selection of heads of government owned banks and financial institutions and help banks in developing strategies and capital raising plans. It had replaced Appointments Board of Government.
Genesis: It was first proposed by Committee to Review Governance of Boards of Banks in India (also known as PJ Nayak committee). Its approved by Union Government in August 2015 as part of seven point Indradhanush Mission to revamp PSBs. Its constitution/formation was approved by Prime Minister Narendra Modi in February 2016 and started functioning in April 2016. It is housed in Reserve Bank of India's (RBI) central office in Mumbai, Maharashtra.
Composition: It comprises eminent professionals and officials for public sector banks (PSBs). Its current Chairman is Bhanu Pratap Sharma (former Secretary Department of Personnel and Training). The first BBB was set up in February 2016 under chairmanship of former CAG Vinod Rai for two-year term that ended in March 2018
Functions of BBB: (i) Give recommendations to Union government for appointment of full-time Directors as well as non-Executive Chairman of PSBs and and Financial Institutions like government-owned insurance companies. (ii) Give advice to PSBs in developing differentiated strategies for raising funds through innovative financial methods and instruments and to deal with issues of stressed assets. (iii) Guide banks on governance issues, develop strategies, capital raising plan, mergers and consolidations and address bad loans problem among other issues.