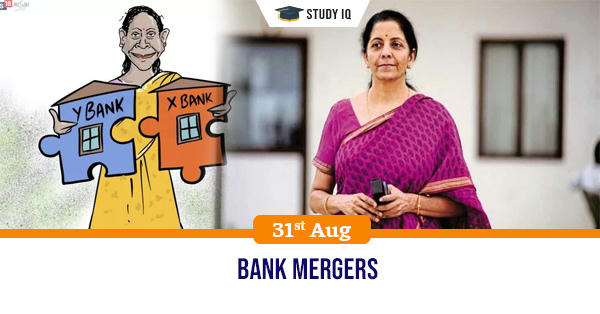 Bank Mergers
Date: 31 August 2019
Tags: Banking Schemes & Policies
Issue
Finance Minister Nirmala Sitharaman announced a series of mergers involving 10 state-owned banks . The merger has reduced the number of state owned banks from 27 to 12.
Background
A Bank merger is a situation in which two banks pool their assets and liabilities to become one bank. Since, this can have a significant impact on the financial industry, the Federal Reserve subjects mergers involving bank holding companies to more intensive regulation.
Details
Finance minister announced the merger of Punjab National Bank, Oriental Bank of Commerce and United Bank with business of 7.95 trillion to make India's second-largest bank.

The other merger will be between Canara Bank and Syndicate Bank, which will make the fourth-largest bank, with 15.2 trillion business.

Union Bank will be merged with Andhra Bank and Corporation Bank to build India's fifth-largest public sector bank with 14.59 trillion in business.

Indian Bank will be merged with Allahabad Bank to make India's seventh-largest PSB with a business of 8.08 trillion
Advantages and disadvantages
Advantages
It reduces the cost of operation

The merger helps in financial inclusion and broadening the geographical reach of the banking operation

NPA and risk management are benefited

Merger leads to availability of a bigger scale of expertise and that helps in minimising the scope of inefficiency which is more in small banks

Merger sees a bigger capital base and higher liquidity and that reduces the government's burden of recapitalising the public sector banks time and again

Redundant posts and designations can be abolished which will lead to financial savings
Disadvantages
Many banks have a regional audience to cater to and merger destroys the idea of decentralisation.

Larger banks might be more vulnerable to global economic crises while the smaller ones can survive.

Merger sees the stronger banks coming under pressure because of the weaker banks.

Coping with staffers' disappointment could be another challenge for the governing board of the new bank. This could lead to employment issues
Other mergers
The earlier merger of Bank of Baroda,Vijaya Bank and Dena Bank led to enhanced customization and rationalization of operations without any retrenchment. CASA (current and savings account) growth is 6.9% in the June quarter; retail loan growth is 20.5%, while profitability is around 710 crore.