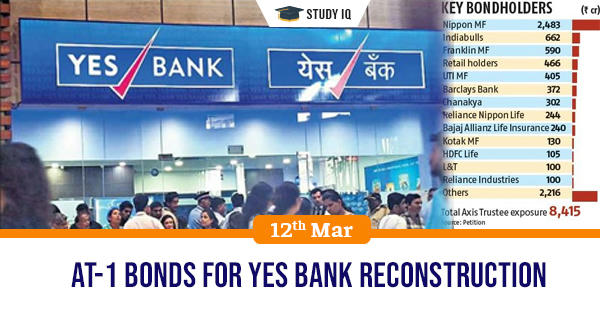 AT-1 bonds for Yes bank reconstruction
Date: 12 March 2020
Tags: miscellaneous
Issue
Bondholders' investments in Yes Bank Ltd.'s additional tier-1 securities are likely to get converted to equity as part of a settlement plan between the lender and investors.

Background
The settlement plan follows the Reserve Bank of India's draft proposal to fully write-off the AT-1 bonds on Yes Bank's book last week. That came after the government placed the lender under month-long moratorium.
Details
The RBI reconstruction plan for Yes Bank puts to risk nearly Rs 9,000 crore worth of AT-1 bonds, affecting bondholders including Nippon Life India AMC, mutual fund house Franklin Templeton, UTI Mutual Fund, SBI Pension Fund Trust and Indiabulls Housing Finance, among others.

As per RBI rules based on the Basel-III framework, AT-1 bonds have principal loss absorption features, which can cause a full write-down or conversion to equity on breach of a pre-specified trigger of common Tier 1 capital ratio falling below 6.125 per cent.

Banks cannot use conversion or write down of AT1 instruments to support expansion of balance sheet. It is only intended to replenish the equity of a bank in the event it is depleted by losses.

As per the draft resolution plan, Yes Bank's equity share capital would be altered to Rs 5,000 crore, while the existing equity shares would be increased to 2,400 crore worth Rs 2 each. While SBI's initial investment is to cover for 49 percent stake, it will be required to maintain at least 26 percent stake for three years.
AT-1 bonds
The concept of AT1 bonds or additional Tier 1 bonds was brought in after a bunch of global banks went bust during the global financial crisis and regulators formulated Basel III norms for banks.

One of the key things Basel III did was to raise the amount of their own capital that banks needed to carry in their balance sheets, before they raised external deposits and loans.

Basel III norms require Indian banks to maintain a total capital ratio of 11.5%, split into 8% in tier 1 capital (own equity, reserves etc) and tier 2 (supplementary reserves and hybrid instruments).

The AT 1 bonds, also known as "unsecured subordinated perpetual non-convertible" bonds, make up part of a bank's Tier 1 or permanent capital. Banks issue them to make sure they can meet Basel III norms on equity capital.