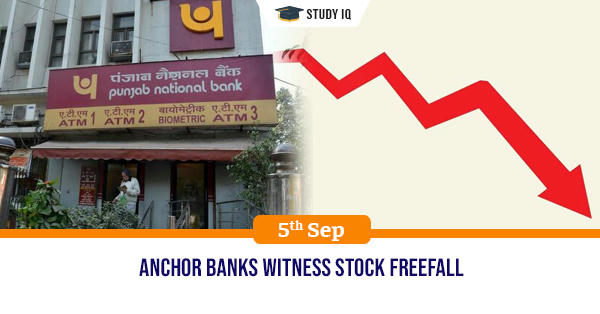 Anchor banks witness stock freefall
Date: 05 September 2019
Tags: Banking Schemes & Policies
Issue
Stocks of public sector lenders (anchor banks), with which some other PSU banks will be merged, lost anywhere between 8.5% and 12% on the BSE.
Indian Bank, with the lowest NPAs among PSB merger candidates, is the worst hit
Background
The fall in shares comes during the first trading day after the government announced the merger of ten public sector banks (PSBs) into four.

Indian Bank, which has the lowest non-performing assets (NPAs) among the banks chosen for merger is the worst-hit with shares declining almost 12%.
Details
The asset quality of anchor banks will suffer due to its merger. The Indian bank has lower NPA but its merger with Allahbad Bank, which has higher NPA, has affected shares of Indian Bank.

Similarly Shares of Punjab National Bank, which is the anchor bank for the merger of PNB, Oriental Bank of Commerce and United Bank of India fell by 8.5%.

Union Bank and Canara Bank, the other two anchor banks have dropped 9.1% and 10.6% respectively.
Anchor Banks
Anchor Banks are large lender banks that will act as the main support when certain smaller banks are merged into them to form consolidated banks.

Currently, the government has identified State Bank of India, Punjab National Bank, Canara Bank, Bank of Baroda and Indian bank as anchor banks.