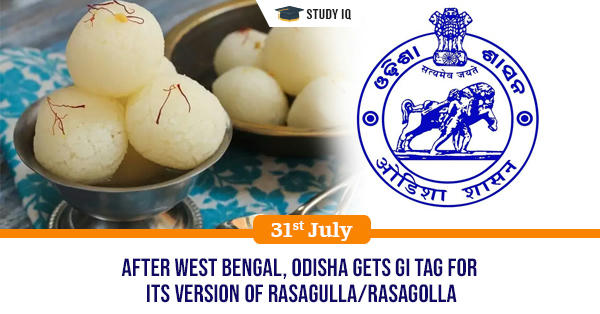 After West Bengal, Odisha gets GI tag for its version of Rasagulla/Rasagolla
Date: 31 July 2019
Tags: Martial Arts
Context:
The bitter war between Odisha and West Bengal appears to have ended in a draw with the grant of GI to Odisha as well for rasagulla.
Significance of GI:
A GI tag helps in the branding and marketing of a local product and can attract penalties if copied by anybody outside that geographical region.
What is a GI?
According to the WIPO (World Intellectual Property Organisation) "a GI is a sign used on products that have a specific geographical origin and possess qualities or a reputation that are due to that origin."

India, which is a party to TRIPS, formulated a GI law in 1999,

which came into force four years later
What the fight was all about?
In Nov, 2017

When West Bengal received its GI tag for its variety of Rasagulla many people wrongly believed that the GI Registry has recognized that the sweet originated in West Bengal.
A bitter fight ensued between the two states over the sweet delicacy, both on social media and off it.

Claims by West Bengal:

Bengalis claim the sweet was invented by Nobin Chandra Das (Birth: 1845) at his Bagbazar residence in Kolkata.

Claims by Odisha:

Odias cite the tradition dating back to the 12th century of the cottage cheese dumpling being offered at the Puri Jagannath Temple.
Odias as Rasagolla Dibasa (Day):

During the festival of "Niladri Bije", Lord Jagannath offers rasgulla to his disgruntled consort Goddess Laxmi on his return from a nine-day-long Rath Yatra.

That day is now marked by Odias as Rasagolla Dibasa (Day) every year.

How a single product could be recognized as GI for 2 different geographies?

The GI tag for the same product to both the neighboring states now recognizes two distinct varieties in taste and texture.