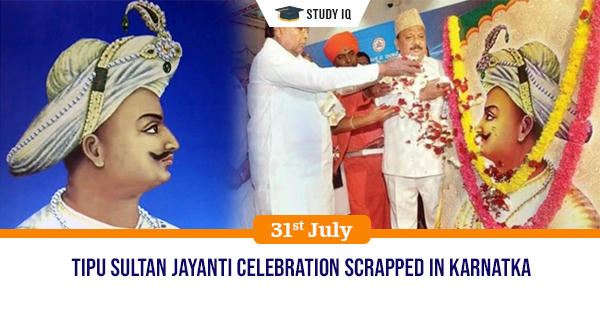 Tipu sultan jayanti celebration scrapped in Karnatka
Date: 31 July 2019
Tags: Personalities
Context:
Within three days after coming to power, the BS Yediyurappa government in Karnataka issued an order cancelling the "Tipu Jayanti" celebrations
Who was Tipu Sultan?
Tipu was a ruler of the erstwhile Kingdom of Mysore and considered an implacable enemy of the British East India Company.
He was killed in May 1799 while defending his fort at Srirangapatna against the British forces.
Why is he such a controversial legend?
Tipu Sultan is a controversial figure in Kodagu district as Kodavas (Coorgis), a martial race, believes thousands of their men and women were seized and held captive during his occupation and subjected to torture, death and forcible conversion to Islam.
He was also accused of execution of Mandyam Iyengars at the temple town of Melkote in Mandya district on the day of Deepavali, as they supported the then Maharaja of Mysuru.
Do historians support this claim?
The scale of such suppression is disputed by several historians, who see Tipu as a secular and modern ruler who took on the might of the British.