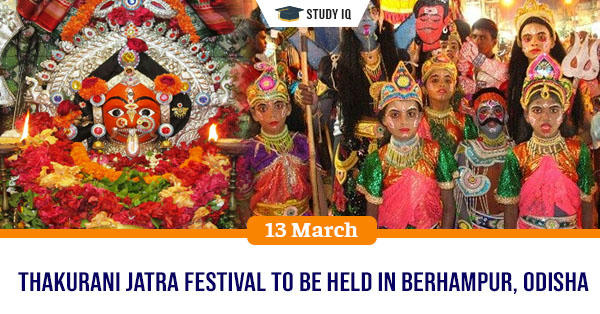 Thakurani Jatra festival to be held in Berhampur, Odisha
Date: 13 March 2019
Tags: Festivals
The month-long famous Thakurani Yatra festival will be held in Berhampur, Odisha. It is one of the biggest festivals of southern Odisha. According to Desibehera P. Durgaprasad, traditional head of this festival, celebrations will start from March 29 and continue for 32 days.
Thakurani Jatra festival
It is biennial (every two years) festival celebrated in the city of Behrampur (the silk city), Odisha. It also known as Ghata Yatra.

It marks worship of Goddess Buddhi Thakurani who is considered the protector of Behrampur. It is chief festival of Southern Odisha.

Goddess Buddhi Thakurani is traditional deity of silk handloom weavers or Dera community of Berhampur. Deras weaver community worship the goddess.

As per tradition, during the festival Goddess will stay in temporary abode near her parental house in Desibehera street.

Idol of goddess is taken out in procession to different streets to facilitate residents worship her at their own doorsteps.

The period of outing of goddess is accompanied by joyous carnival spirit. As homage to goddess, people of all ages, including children and elderly, through body painting transform themselves into various characters from Indian mythology during the festival.