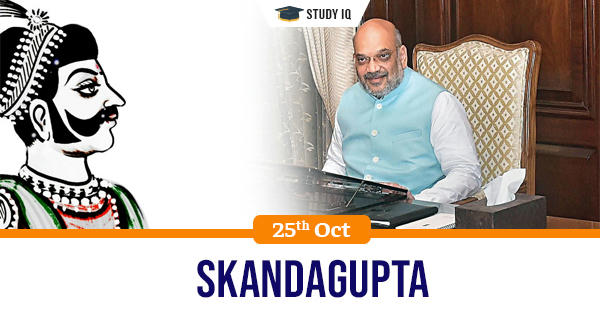 Skandagupta
Date: 25 October 2019
Tags: Personalities
Issue
In the call to rewrite history made by Union Home Minister Amit Shah, Gupta emperor Skandagupta Vikramaditya may get a re-look in modern India.
Background
The book, titled Guptvanshik-Veer: Skandgupta Vikramaditya Ka Itihasik Punahsmaran, by Rakesh Upadhyay, is one of the first produced by the three-year-old Bharat Adhyayan Kendra, or the Centre for Indic Studies, set up at Benaras Hindu University (BHU).
Details
Skandagupta was a Gupta Emperor of northern India. His Bhitari pillar inscription suggests that he restored the Gupta power by defeating his enemies, who may have been rebels or foreign invaders.

He repulsed an invasion by the Indo-Hephthalites (known as Hunas in India), probably the Kidarites.

He seems to have maintained control of his inherited territory, and is generally considered the last of the great Gupta Emperors.
Contributions
Coinage
Compared to his predecessors, Samudragupta issued fewer gold coins, and some of these coins feature relatively less quantity of gold.

It is possible that the various wars fought by him strained the state treasury, although this cannot be said with certainty.

Skandagupta issued five types of gold coins: Archer type, King and queen type, Chhatra type, Lion-slayer type and Horseman type.

His silver coins are of four types: Garuda type, Bull type, Altar type and Madhyadesha type.
Bhitari Pillar Inscription
The Bhitari pillar inscription of Skandagupta, was discovered in Bhitari, Saidpur, Ghazipur, Uttar Pradesh, and dates to the reign of Gupta Empire ruler Skandagupta.

Among other things, the inscription is extremely important in understanding the chronology of the various Gupta rulers. It also mentions the conflict between Skandagupta and the Pushyamitras as well as the Hunas.

The inscription is written in 19 lines, starting with the genealogy of the ancestors of Skandagupta, then a presentation of Skangupta himself, and finally a presentation of his achievements.