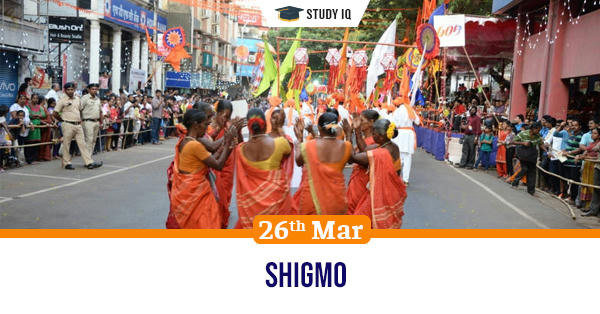 Shigmo
Date: 26 March 2021
Tags: Miscellaneous
Issue
Shigmo festival and its celebration will be cut down drastically as Covid cases are increasing in the state of Goa.
Background
Shigmo is a festival full of colour, song and dance that has central presence in Goan culture and traditions.
Details
Shigmo is a celebration to mark a 'rich, golden harvest of paddy' by the tribal communities of Goa.

Various communities such as the Kunbis, Gawdas and Velips celebrate the festival to mark the onset of spring.

Shigmo celebrations are held over a fortnight in the months of Phalgun-Chaitra of the Hindu calendar that falls in March-April every year.
Features
The festival starts with Naman, where villagers invoke local deities on the village's stage (mand).

Instruments such as Ghumat, Dhol, Mhadle and Tashe are played by male members to start festivities.

Celebrations are conducted with traditional, colourful costumes, mythological figures, faces paintings and costumes of various hues.

Ghodemodini (a dance of equestrian warriors), Gopha and Phugadi are some of the folk dances that are performed by communities.