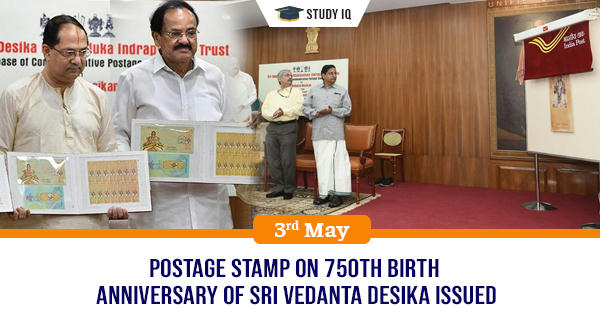 Postage stamp on 750th birth anniversary of Sri Vedanta Desika issued
Date: 03 May 2019
Tags: Personalities, Philosophy
Vice President M. Venkaiah Naidu released commemorative postage stamp to mark 750th birth anniversary of great saint, spiritual icon and great philosopher Sri Vedanta Desikan. The stamp unveiled Indian postal department aims to pay tribute to great contributions of Sri Vedanta Desikan, his life and highly valued works. It also inspire younger generation to follow in his footsteps.
Sri Vedanta Desikan
He was one of most prominent preceptors in 'Sri Vaishnava' tradition post Ramanuja period.

He was born in 1268 CE in Thoopul (present-day Kanchipuram District, Tamil Nadu) and died in 1369 CE.

He was philosopher, master-teacher (desikan), spiritual teacher, mathematician, scientist, logician, poet, literary genius, linguist, military strategist etc.

He had authored number of poems, prose, drama, epics, commentaries, scientific texts and philosophical treatises in Sanskrit, Tamil, Prakrit and Manipravalam.

The basis of his spiritual teachings and philosophy was peace and humanity. Its most essential feature was 'aspect of inclusion' i.e. anyone, irrespective of any caste or creed can join Sri Vaishnava fold. This had led to eradication caste distinctions.

Achievements:

He was awarded many titles for his numerous achievements, including 'kavi tarkika-kesari' (lion amongst poets and logicians).

He was celebrated as 'sarva-tantra-svatantra' (master of all arts and crafts) and glorified as 'ramanuja-daya-patram' (recipient of Ramanuja's blessings).

His famous Literary works:

(i) Rahasya Traya Sara: It is treatise on Prapatti (surrendering oneself to divine). (ii) 'Paduka Sahasram': It shows his poetic eloquence and his mathematical ingenuity. In this collection, it is claimed that he has given solution to mathematical problem that was solved about 500 years later by mathematician Leonard Euler. (iii) 'Silpartha-Saram': It is treatise on sculpture (iv) 'Bhugola Nirnayam': It is research text on geography. It showed his knowledge o arts and sciences. (v) 'Subhashita Neevi': It contains fund of moral and ethical advice which are still relevant and practical. (vi) 'Aahaara Niyamam': It explains how different food items help in maintaining healthy mind and disease-free life.