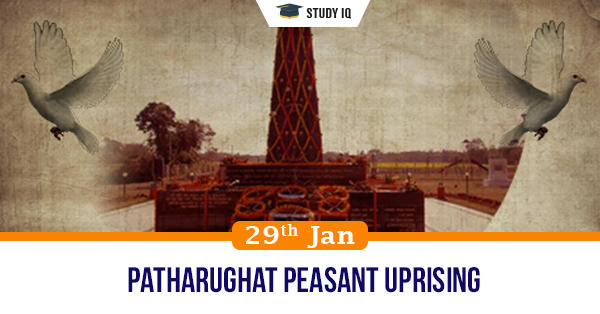 Patharughat peasant uprising
Date: 29 January 2021
Tags: Historical Places
Issue
Assam CM Sarabananda Sonowal attended Krishak Swahid Diwas programme to mark the anniversary of Patharughat peasant uprising.
Background
Twenty five years before the Jallianwallah Bagh massacre, more than a hundred peasants fell to the bullets of the British on January 28, 1894 in Assam.
Details
The unarmed peasants were protesting against the increase in land revenue levied by the colonial administration, when the military opened fire.
Issue leading to uprising
After the British annexation of Assam in 1826, surveys of the vast lands of the state began. On the basis of such surveys, the British began to impose land taxes, much to the resentment of the farmers.

In 1893, the British government decided to increase agricultural land tax reportedly by 70- 80 percent. Up until then the peasants would pay taxes in kind or provide a service in lieu of cash.

Despite these gatherings being democratic, the British perceived them as breeding grounds for sedition. So whenever there was a Raij Mel, the British used to come down on it with a heavy hand to disperse them.

On January 28, 1894, when the British officers were refusing to listen to the farmers' grievances, things heated up. There was a lathi charge, followed by an open firing which killed many of the peasants present.
Significance of incident
This was one of the few occasions in the history of the pre-Congress, pan-Indian anti-imperialist movement, when, in the absence of a well defined leadership, the masses organised themselves to resist the autocratic designs of the British.

However, it rarely features in mainstream historical discourse of the freedom struggle. For the larger Assamese community, Patharughat comes second only to the Battle of Saraighat.

Every year on January 28, the government and local people pay respects to the martyrs of the incident (Krishak Swahid Diwas) in an official function.