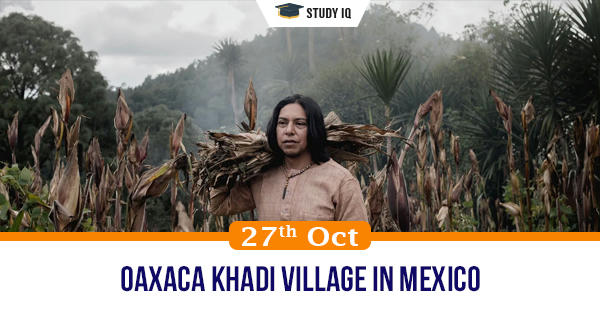 Oaxaca khadi village in Mexico
Date: 27 October 2020
Tags: Miscellaneous
Issue
In his Mann ki Baat address, Prime Minister Narendra Modi cited example of Oaxaca village in Mexico to convey importance and popularity of Khadi.
Background
Modi narrated an anecdote about how khadi reached the Latin American country after a local resident became influenced by a film on Mahatma Gandhi.
Details
Khadi Oaxaca is a farm-to-garment collective which comprises around 400 families, which live and work on traditional farms and homesteads in the Oaxaca region of southern Mexico.

It has been founded by Mark "Marcos" Brown, an American living in Mexico, and his wife, Kalindi Attar.

The product uses cotton produced and cultivated on the Oaxaca coast, and produces chemical-free clothing, relying on locally harvested plant-based dyes.

Before starting the project, Brown lived in India for 12 years, and was strongly influenced by Gandhi. For two years (1986-88), he lived in Gujarat's Sabarmati Ashram, where he learned about khadi.

In the San Sebastián Rio Hondo village, he began teaching spinning to local families, and eventually started Khadi Oaxaca in 2010.

Khadi Oaxaca is evolving as a model for any village wishing to live those traditions that sustain life and help it to thrive.

Gandhiji saw the truth of where modern industry and politics were leading. He was tried to show us the way. Today we must also see that vision of non-violence in our industries and politics.