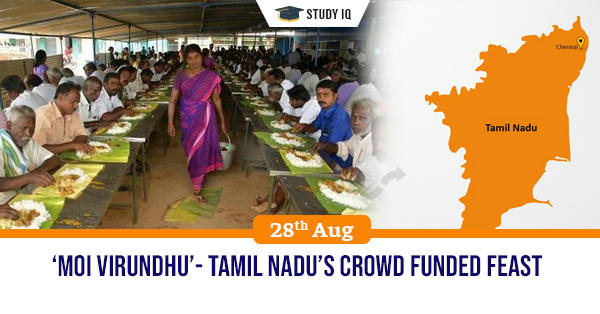 'Moi Virundhu'- Tamil Nadu's crowd funded feast
Date: 28 August 2019
Tags: Festivals
Issue
The traditional moi virundhu is a source of crowd-funding during hard times. A family feeds the community and is bestowed with cash gifts by invitees, a favour that is appreciated, recorded in ledgers, and returned in future.
Background
Moi virundhu

, in its traditional form, used to be a poor person's call for help, where one would organise a feast for friends and family in times of distress in return for monetary help.

But over the past decade or so, the custom has evolved into an annual feature when families take turns to organise the feast, and raise money

.
Details
It goes by different names

illa vizha

(family function) or

vasantha vizha

(spring function). Both these functions have no ritual or ceremony, but are organised with the sole objective of collecting

moi

or cash gifts.

Idea behind the feast is to financially help local community members who had fallen on bad times.

The community elders used to utilise the excess money to benefit the financially weaker section of the community and thus, 'Moi Virunthu' came into existence.

The 'Moi' amount collected can be spent on any productive enterprise like new business, house, child's education, bank savings etc., but the person will have to wait for five years for the next feast.

Those who contributed to the fund, through 'Moi', will get back the money through 'Moi' when they organise the feast of their own.

Modern inventions like a moi-specific software have been developed to handle accounts for " Moi Virundhu'.