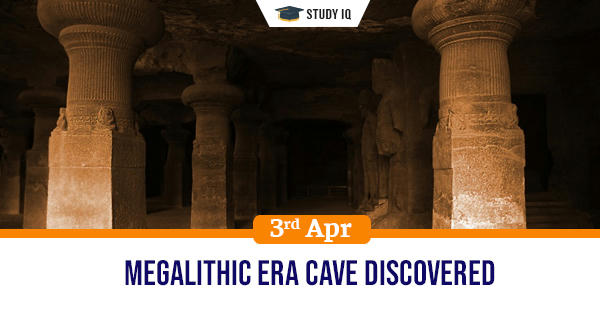 Megalithic era cave discovered
Date: 03 April 2021
Tags: Historical Places
Issue
A cave was discovered while renovating a temple in Paniyadi in Udupi district, which is assumed to be belonging to the Megalithic era.
Background
Researchers visited the cave and found that it was rock-cut. The cave is about 2000 years old and dates to 800 BC.
Details
The discovery is unique in understanding the history of the Phanis. Similar caves have been discovered earlier in coastal Karnataka.

Paniyadi is said to be the original habitat of Phanis, who were an indigenous community living in the country. They are also mentioned in Mahabharata and Puranas.

Phanis are known for their Naga worship while Naga was also their totemic emblem. Anantha Padbhanabha is the presiding deity of Paniyadi and is related with Naga worship.
Megalithic culture
Megalithic cultures are one of the pre-civilization cultures that is distinguished by its large tomb stones. The culture derives its name from Mega (Large) Lith (stone).

Megaliths were set up either as burial sites or commemorative memorials by pre-historic people.

Many burial sites in Megalithic culture include dolmenoid cists, cairn circles and capstones. They are spread mostly across peninsular India.

Megaliths are majorly found concentrated in the states of Maharashtra (especially in Vidarbha), Karnataka, Kerala, Tamil Nadu, Andhra Pradesh and Telangana.

Megalithic age ranged from Neolithic Stone Age to the early Historical Period. Historians have indicated megalithic people followed Iron culture.
Cultural practices
Megalithic people are known to carry out agricultural activity in both the rabi and kharif seasons.

They have grown variety of grains such as rice, wheat, millet, barley, black gram, horse gram, common pea, pigeon pea etc.

Megalithic people are known to have believed in life after death and possibly rebirth. This prompted them to bury people along with goods.

Various types of iron artefacts recovered shows that the megalithic people practised different occupations including carpenters, cobblers, bamboo craftsmen, gemstone work, blacksmiths, coppersmiths etc.

Bronze images of animals like buffaloes, goats, tigers, elephants and antelopes have been recovered from inside burials at the site of Adichanallur.