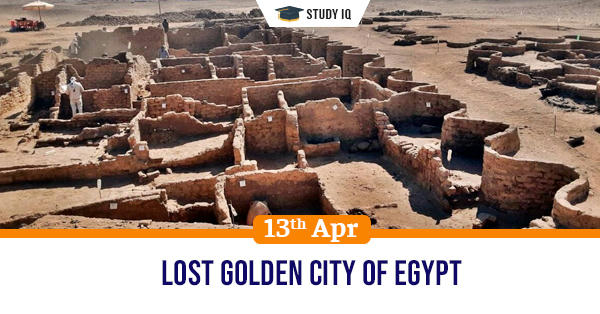 Lost golden city of Egypt
Date: 13 April 2021
Tags: Miscellaneous
Issue
Egypt has announced the discovery of a lost golden city that is the most important discovery since King Tutankhamun's tomb.
Background
The city was found near province of Luxor, where there are already historical sites. The city has preserved tools and artefacts from the reign of Pharaohs.
Details
The newly discovered city is located on the west bank of river Nile near the Colossi of Memnon, Medinet Habu and the Ramesseum, which are popular tourist destinations.

Archaeologists were excavating this area to look for a mortuary temple of King Tutankhamun, an important figure from ancient Egypt.
Significance
Archaeologists found intact city halls and rooms filled with utensils that were used in daily life. They also found scarabs, coloured pottery, rings, and spinning and weaving tools.

It is assumed that the city was used by Tutankhamun and his successor Ay. This period was known as the golden era of ancient Egypt.

Other artefacts discovered include bakery, ovens and storage pottery along with ovens and kilns for making glass. The Northern part of city contained administrative buildings.

The city is said to be largest administrative and industrial settlement of the Pharaonic Empire and many groups were trying to discover it.