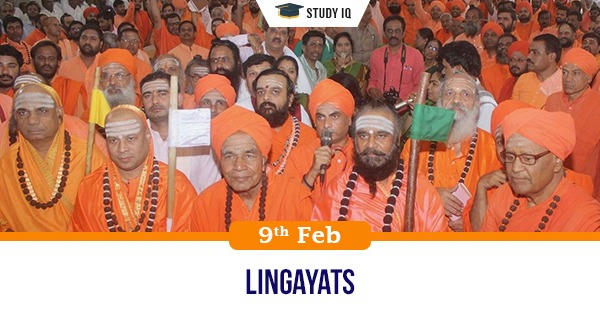 Lingayats
Date: 09 February 2021
Tags: Miscellaneous
Issue
Politics around the Lingayat community has once again taken centre stage in Karnataka, with a section of people in the community demanding inclusion of a large Lingayat sub-sect in an OBC quota category.
Details
Lingayatism is a Shaivite Hindu religious tradition in India. Initially known as Veerashaivas, The adherents of this faith are known as Lingayats.

The terms Lingayatism and Veerashaivism have been used synonymously, but Veerashaivism may refer to the broader Veerashaiva philosophy which predates Lingayatism.

Lingayatism was founded, or revived, by the 12th-century philosopher and statesman Basava in Karnataka.
Philosophy
The term Lingayat is based on the practice of both genders of Lingayats wearing an i??alinga contained inside a silver box with a necklace all the time.

The istalinga is an oval-shaped emblem symbolising Parashiva, the absolute reality and icon of their spirituality.

Lingayatism is generally considered a Hindu sect as their beliefs include many Hindu elements. Worship is centered on Shiva as the universal god in the iconographic form of Ishtalinga.

Lingayatism emphasises qualified monism, with philosophical foundations similar to those of the 11th–12th-century South Indian philosopher Ramanuja. Lingayatism rejects any form of social discrimination including the caste system.

While "Veerashaivas' claim that the two communities are one and the same," orthodox Lingayats claim that they are different.

Lingayats claim that Veerashaivas do not truly follow Basava, accept Vedic literature, and "worship idols of Lord Shiva.
Basavanna (Basava)
Basavanna was a 12th-century Hindu philosopher, statesman, Kannada poet in the Shiva-focused Bhakti movement, and a social reformer during the reign of the Kalachuri king Bijjala II (reigned 1157–1167) in Karnataka.

Basava grew up in a Brahmin family with a tradition of Shaivism. He developed and inspired a new devotional movement named Virashaivas.

This movement shared its roots in the ongoing Bhakti movement, particularly the Shaiva Nayanars traditions, over the 7th- to 11th-century.
Teachings of Basavanna
Basava championed devotional worship that rejected temple worship with rituals led by Brahmins, and emphasized personalised direct worship of Shiva through practices such as individually worn icons and symbols like a small linga.

Basavanna spread social awareness through his poetry, popularly known as Vachanaas.

Basavanna rejected gender or social discrimination, and caste distinctions, as well as some extant practices such as the wearing of sacred thread, and replaced this with the ritual of wearing Ishtalinga necklace, with an image of the Shiva Li?ga.

He introduced new public institutions such as the Anubhava Mantapa, which welcomed men and women from all socio-economic backgrounds to discuss spiritual and mundane questions of life, in open.

Lingayatism suggests giving and donating a part of one's time, effort and income to one's community and to religious mendicants.