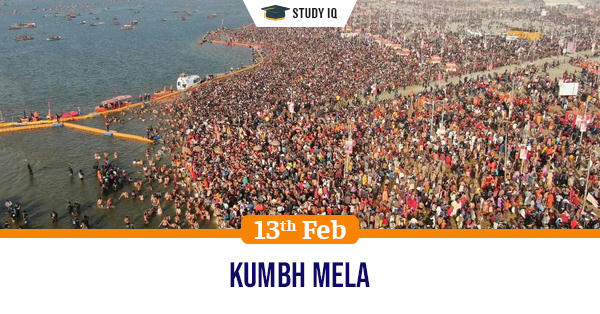 Kumbh Mela
Date: 13 February 2021
Tags: Festivals
Issue
The Uttarakhand government has decided to restrict one of the most sacred pilgrimages, the Kumbh Mela, to 30 days this year.
Details
Kumbh Mela is celebrated in a cycle of approximately 12 years at four river-bank pilgrimage sites: the Allahabad (Ganges-Yamuna Saraswati rivers confluence), Haridwar (Ganges), Nashik (Godavari), and Ujjain (Shipra).

The seekers believe that bathing in these rivers is a means to pr?ya?chitta (atonement, penance) for past mistakes and that it cleanses them of their sins.

The festival is one of the largest peaceful gatherings in the world, and considered as the "world's largest congregation of religious pilgrims".

It has been inscribed on the UNESCO's Representative List of Intangible Cultural Heritage of Humanity.
Historical origin
The festival is traditionally credited to the 8th-century Hindu philosopher and Saint Adi Shankara, as a part of his efforts to start major Hindu gatherings for philosophical discussions and debates along with Hindu monasteries across the Indian subcontinent.

Ancient Hindu legend describes the creation of a "pot of amrita" after the forces of good and evil churn the ocean of creation.

The gods and demons fight over this pot, the "kumbh," of nectar in order to gain immortality. The pot is spilled at four places, and that is the origin of the four Kumbha Melas.
UNESCO Representative List of Intangible Cultural Heritage of Humanity
UNESCO established the Lists of Intangible Cultural Heritage with the aim of ensuring better protection of important intangible cultural heritages worldwide and the awareness of their significance.

The programme aims to draw attention to the importance of safeguarding intangible heritage, which UNESCO has identified as an essential component and as a repository of cultural diversity and of creative expression.
Indian list
Koodiyattam: a Sanskrit theatre of Kerala
Mudiyettu: a ritual theatre and dance drama of Kerala
Vedic chantings: recitation of sacred Hindu texts
Ramlila: the traditional performance of the Ramayana
Ramman: a religious festival and ritual theatre of Garhwal, Uttarakhand
Kalbelia: folk songs and dances of Rajasthan
Chhau dance: a classical dance form of Odisha and West Bengal
Ladakh Buddhist chantings: recitation of sacred Buddhist texts in Ladakh
Manipuri Sankirtana: a ritual singing, drumming and dancing of Manipur
Traditional brass and copper craft of utensil making among the Thatheras of Jandiala Guru, Punjab
Yoga: ancient Indian physical, mental and spiritual practices originating in ancient India
Kumbh Mela: mass Hindu pilgrimage held at Haridwar of Uttarakhand, Nashik of Maharashtra, Prayagraj of Uttar Pradesh and Ujjain of Madhya Pradesh