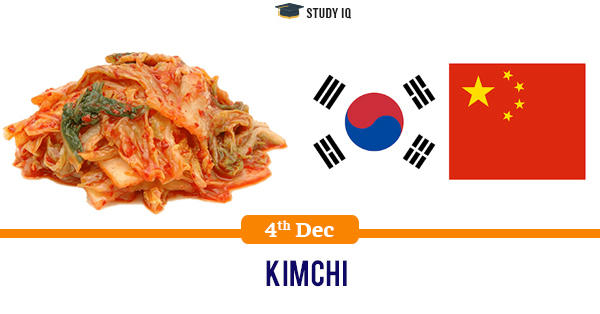 Kimchi
Date: 04 December 2020
Tags: Miscellaneous
Issue
South Korean social media users have been upset after Chinese citizens have claimed that the popular South Korean dish Kimchi has Chinese origin.
Background
The debate was sparked after one of the China's fermented dishes received certification from the International Organisation for Standardisation [ISO].
Details
South Korean social media users have taken to the internet and accused China of Plagiarism. Chinese users have defended the move.

Rice and Kimchi (fermented cabbage) is a staple dish in the Korean peninsula and both Korea have made Kimchi their national dish.

South Korea has invested lot of resources for promotion of Kimchi such as World Institute of Kimchi and Korean Kimchi Association. There is also a museum to trace history of Kimchi.

The issue was started due to excessive import of Chinese made Kimchi to supplement domestic demand.

This made Chinese made Kimchi to contribute towards 90% of South Korea's consumption due to its cheaper prices.

China has also pushed back Korea while exporting Kimchi to Japan, one of the largest food markets in the region.

South Korea has demanded for a Kimchi standard to prevent copied version of the food from originating and also protecting interests of Korean culture.

The UN appears to agree that Kimchi is South Korean, with Unesco adding Kimjang – the communal act of making Kimchi – to its intangible cultural heritage list in 2013.