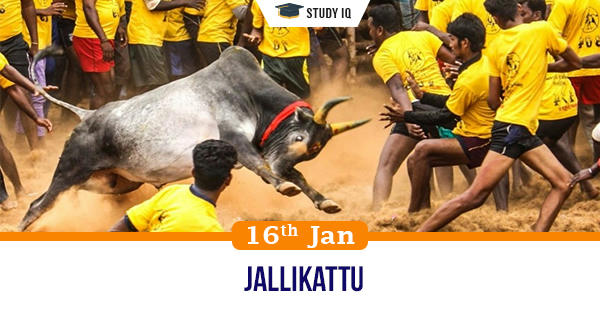 Jallikattu
Date: 16 January 2021
Tags: Miscellaneous
Issue
The Jallikattu sport took place during the Pongal festival held across Tamil Nadu. The sport has gained traction since revocation of ban.
Details
Jallikattu is a traditional event in which a bull is released into a crowd of people, and multiple human participants attempt to grab the large hump on the bull's back with both arms and hang on to it while the bull attempts to escape.

Participants hold the hump for as long as possible, attempting to bring the bull to a stop. In some cases, participants must ride long enough to remove flags on the bull's horns.

Jallikattu is typically practised in the state of Tamil Nadu during Pongal celebrations on Mattu Pongal day, which occurs annually in January.

As there were incidents of injury and death associated with the sport, both to the participants and to the animals forced into it, animal rights organizations have called for a ban to the sport, resulting in the court banning it several times over the past years.

Jallikattu has been known to be practiced during the Tamil classical period (400-100 BCE). It was common among the Ayar people who lived in the 'Mullai' geographical division of the ancient Tamil Nadu.

Later, it became a platform for display of bravery, and prize money was introduced for participation encouragement. A seal from the Indus Valley Civilization depicts the practice.
Variations
Vadi manjuvirattu: This is the most common category of jallikattu. The bull is released from a closed space and the contestants attempt to wrap their arms or hands around the hump of the bull and hold on to it to win the award. Only one person is allowed to attempt at a time.
Veli virattu: In this variant the approach is slightly different as the bull is directly released into open ground. The rules are the same as that of vadi majuvira??u. This is a popular variant in the districts of Sivagangai and Madurai.

Vatam manjuvirattu

: In this variant, the bull is tied with a 15 m (49 ft) rope. There are no other physical restrictions for the bull and hence it can move freely anywhere. The maximum time period given is 30 minutes. A team of seven to nine members can attempt to untie the gift token that is tied on the bull's horn.