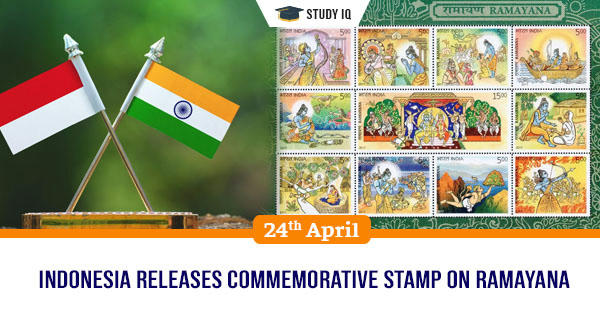 Indonesia releases commemorative stamp on Ramayana
Date: 24 April 2019
Tags: Literature
Indonesia has released special commemorative stamp on theme of Ramayana to mark 70th anniversary of establishment of its diplomatic ties with India. The stamp has been designed by Indonesian sculptor Padmashri Bapak Nyoman Nuarta. It features a scene from Kakawin Ramayana in which Jatayu fought to save Sita. The specially signed version of this stamp will be on displayed at Philately Museum in Jakarta.
Kakawin Ramayana
It is old Javanese rendering of Sanskrit Ramayana. It is written in kakawin meter, the Javanese form of kavya, a poem modeled on traditional Sanskrit meters.

It is Sri Lankan version of Ramayana authored by Rishi Kamban, titled "Ramavataram" and was written in Tamil. (Note: Indian Ramayana is the original Ramayana authored by Sage Valmiki)

It is believed to be written in Central Java (modern Indonesia) in approximately 870 AD during the era of Medang Kingdom under the reign of Mpu Sindok.

Its first half is similar to Indian Ramayanas (Bala Kanda and Ayodhya Kanda). However, there are some major differences in the latter second part.