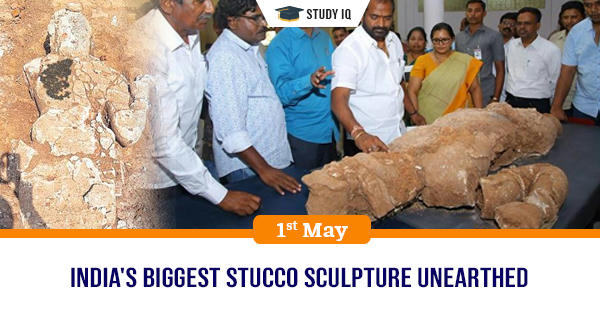 India's biggest stucco sculpture unearthed
Date: 01 May 2019
Tags: Sculpture
Archaeologists have unearthed rare life-sized stucco sculpture from Buddhist site at Phanigiri in Suryapet, Telangana. It is biggest stucco sculpture till date to be unearthed in the country.
Features of this stucco sculpture
This life-size figurine represents one of the Bhodhisattva in Jathaka Chakra. It is about 1.73 metres in height and 35 cm in width.

It is believed that it was created nearly 1,700 years ago by craftsmen at Phanigiri at the peak of Ikshavaku dynasty rule.
Other Findings
Apart from the life-sized stucco, archaeologists also unearthed Mahastupa, apsidal chaitya grihas, votive stupas, pillared congregation halls, viharas, platforms with staircases at various levels, sculptural panels with Brahmi inscriptions, belonging to Satavahana period from 1st century BC, continued with Mahayana till end of Ikshuvaka period and others in 3rd-4th century AD.
Stucco
It is made of aggregates, binder, and water. It is applied wet and hardens to very dense solid. Traditional stucco is made of sand, lime and water. Lime is added to increase permeability and workability. Modern stucco is made of sand, portland cement and water. It is used as sculptural and artistic material in architecture and also for decorative coating for walls and ceilings.