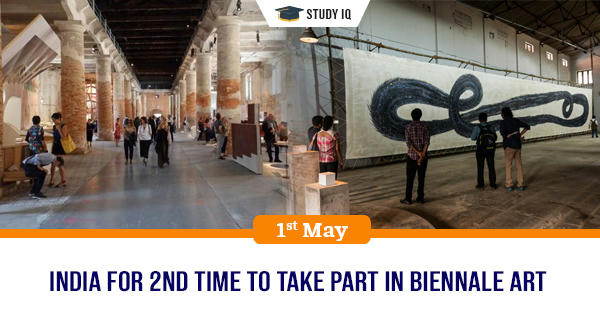 India for 2nd time to take part in Biennale Art
Date: 01 May 2019
Tags: Festivals
India for second time will have its appearance at world's oldest Biennale Art event to be held in Venice, Italy. This year 2019 is 58th session of Biennale Art. In this art exhibition festival, India will display 16 out of 400 Haripura session posters up on walls of India pavilion. Many countries including Pakistan and Ghana will be hosting their pavilions for first time.
India's Participation
India will be participating in event after a gap of eight years. This will be only second time India will have pavilion of its own at Venice Biennale.

For this edition, Union Ministry of Culture has laid down theme for the Indian Pavilion as '150 years of Mahatma Gandhi'.

Under this theme, Indian pavilion will showcase Father of the Nation Mahatma Gandhi to ensure a memorable show at art event. It will display 16 Haripura posters on its walls.

Significance of Haripura posters:

In 1938, Mahatma Gandhi had commissioned Indian modern artist Nandalal Bose to create 400 posters portraying different aspects of Indian life to be displayed at Indian National Congress' session in Haripura, Gujarat.
58th Venice Biennale 2019
It will be held for 6 months period from 11 May 2019 till 24 November 2019. Theme for Biennale 2019 is 'Our Time for a Future Caring'.
Venice Biennale
It is also known as La Biennale di Venezia. It is one of the biggest art events in the world. It was inaugurated for first time in 8195. It is organized by Biennale Foundation.

It is biennial event i.e. it is held every two years. It focuses on contemporary art and includes events for art, contemporary dance, architecture, cinema and theatre.