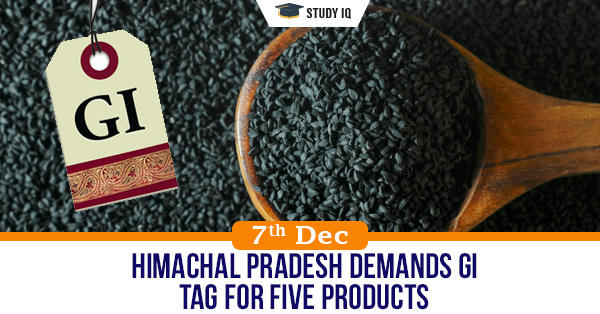 Himachal Pradesh demands GI tag for five products
Date: 07 December 2020
Tags: Miscellaneous
Issue
The Himachal Pradesh Government is trying to get GI tag status for five products from the state—Karsog Kulth, Thangi of Pangi, Chamba metal crafts, Chamba Chukh and Rajmah of Bharmour.
Background
World Intellectual property organisation defines GI as a sign used on products that have a specific geographical origin.
Details
Karsog Kulth: It is a variety of horse gram legume grown as a kharif crop in Himachal Pradesh. Kulth grown in Karsog area is said to be rich in amino acids.
Thangi of Pangi: It is a type of hazelnut particularly grown in Pangi valley of Himachal. It is known for its unique flavour and sweetness.
Chamba metal crafts: These include items such as metal idols and brass utensils which were historically made by skill artisans of Chamba valley. There have been efforts to revive the trade.
Chamba Chukh: It is a type of chutney made from red and green chillies grown in Chamba valley and prepared in unique and traditional way.
Rajmah of Bharmour: It is specifically called Kugtalu Rajmah since it is grown near the Kugti pass. It is rich in proteins and has rich flavours.
GI tags of Himachal Pradesh
Kangra paintings of Kangra valley, Kullu shawl of Kullu valley and Chamba rumal from Chamba. In addition, Kinnauri Kala Jeera is still pending.
Geographical Indication
A geographical indication (GI) is a name or sign used on products which corresponds to a specific geographical location or origin (e.g., a town, region, or country).

The use of a geographical indication, as an indication of the product's source, acts as a certification that the product possesses certain qualities, is made according to traditional methods, or enjoys a good reputation due to its geographical origin.

Geographical Indications protection is granted through the TRIPS Agreement.
Benefits of GI tag
GI provides better market for the products and prevents misuse of the name. A GI tag is given to a area and not a trader. Once a tag is given, a trader can apply for selling a product using GI tag.

Unregistered trader selling GI tag product can be prosecuted under the geographical Indications of Goods (Registration and Protection) Act, 1999.

GI are also expected to boost or revive the items whose production has declined or under the verge of extinction.