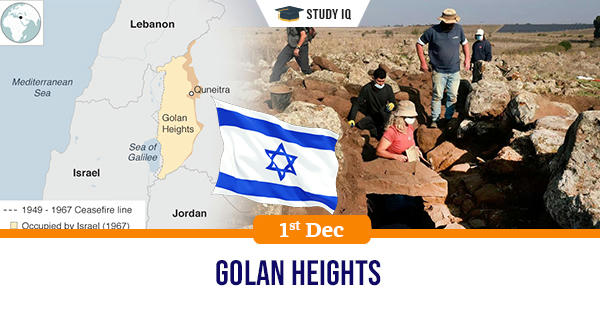 Golan Heights
Date: 01 December 2020
Tags: Miscellaneous
Issue
Archaeologists have unveiled a fortified structure from the time of the King David on the Israeli-occupied Golan Heights.
Details
The 3,000-year-old fortress is believed to have belonged to the Geshurites, King David's allies.

Diggers found a large stone with an engraving of two horned figures stretching out their arms and a statuette of a woman holding a musical instrument, possibly a drum.

There is source material indicating "family ties" between the Geshur kingdom and the kingdom of David.
Golan Heights
The Golan Heights is a region in the Levant, spanning about 1,800 square Km (690 sq mi). The region defined as the Golan Heights differs between disciplines.

As a geological and biogeographical region, the Golan Heights refers to a basaltic plateau bordered by the Yarmouk River in the south, the Sea of Galilee and Hula Valley in the west.

As a geopolitical region, the Golan Heights refers to the area captured from Syria and occupied by Israel during the 1967 Six-Day War, territory which has been administered as part of Israel since 1981.

This region includes the western two-thirds of the geological Golan Heights and the Israeli-occupied part of Mount Hermon.

In addition to its strategic military importance, the Golan Heights is an important water resource, especially at the higher elevations, which are snow-covered in the winter and help sustain base flow for rivers and springs during the dry season.
West Bank
The West Bank is a landlocked territory near the Mediterranean coast of Western Asia, bordered by Jordan to the east and by Israel to the south, west, and north. The West Bank also contains a significant section of the western Dead Sea shore.

The "West Bank" name was given to the territory after it was captured by Jordan in the 1948 Arab–Israeli War because it sits on the west side of the Jordan river.

Jordan subsequently annexed the territory in 1950 and held it until 1967 when it was occupied by Israel during the 1967 Six-Day War.
Gaza strip
The Gaza Strip is a self-governing Palestinian territory on the eastern coast of the Mediterranean Sea, that borders Egypt on the southwest and Israel on the east and north border. Gaza and the West Bank are claimed by the de jure sovereign State of Palestine.