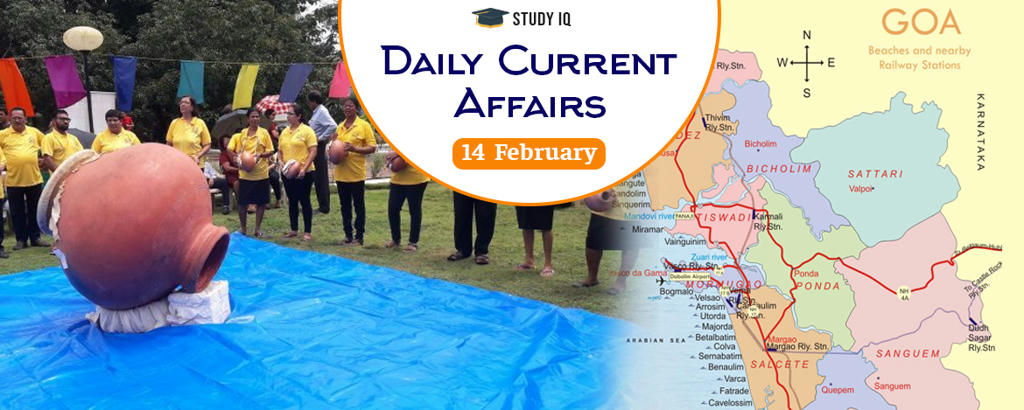 Ghumot to be declared as heritage musical instrument of Goa
Date: 14 February 2019
Tags: Dance and Music
Goa Government will soon notify Ghumot, an indigenous earthen drum as "heritage musical instrument" of the state. This decision aims to take forward efforts of state government to conserve this heritage musical instrument.
Ghumot
It is traditional percussion instrument played during Ganesh Chaturthi aarties (prayers).

It forms integral part of Goan folk, religious and temple music, both Hindu and Christian.

It is basically designed clay pot, with both sides open, bigger opening has skin of monitor lizard (locally known as gaar) stretched taut across pot's mouth, forming drumhead.

It is also used in Goan temples during spring season in orchestra called as Suvari Vadan.

In recent years monitor lizard skin is replaced with skin of she-goat (female goat) to protect this endangered monitor lizard
Ban
This traditional instrument was once banned by state forest department due to use of monitor lizard skin in its making.

Monitor lizards are classified as endangered wildlife species and is listed in Schedule I of the Wildlife (Protection) Act, 1972.

This ban has been lifted in recent times makers of this traditional instruments have started replacing monitor lizard skin with skin of she-goat.
Gift
Ghumot was presented as gift from state to Portuguese Prime Minister Anotnio Costa, who is of Goan origin, during his official state visit to India in in 2017. Goa is former Portuguese colony and was under its control for about 450 years until it was annexed by India in 1961.