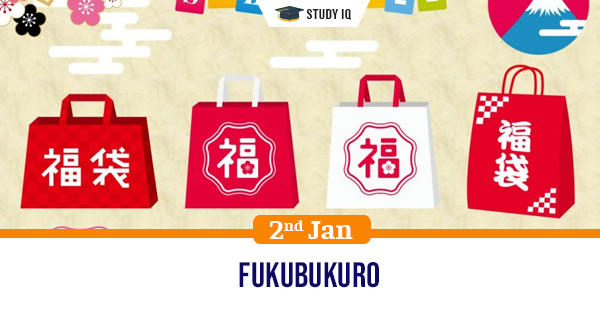 Fukubukuro
Date: 02 January 2021
Tags: Miscellaneous
Issue
The Japanese tradition of Fukubukuro has turned out to be a dull affair due to the coronavirus pandemic.
Background
The term fukubukuro is comprised of two Japanese words: fuku, meaning good fortune or luck, and bukuro meaning bag. It is a practice of gifting lucky bag.
Details
Fukubukuro typically go on sale at the start of the New Year, with outlets ranging from high-end fashion boutiques to discount liquor stores bagging up a selection of items.

There may be no way of knowing just what is inside, but the understanding is that it will be worth around double of what the buyer pays.

Fukubukuro are an easy way for stores to unload excess and unwanted merchandise from the previous year, due to a Japanese superstition that one must not start the New Year with unwanted items from the previous year and start clean.

Fukubukuro come at a variety of different prices. Most bags are priced ranging from a few hundred to a few 10,000 yen (1–100 USD). However, every year there are also a few extremely expensive fukubukuro available.

Merchants plan out what will go into these grab bags and what the selling price will be months in advance. In major department stores, grab bags are usually themed to specific departments.

In other stores (especially smaller stores), many fukubukuro are often filled with items that relate to the store or think kindly of the customers' needs.

Bags containing nothing but unwanted items are known colloquially as fuk?bukuro ("misfortune bags") or utsubukuro ("depressing bags"), and some stores which have nothing good to offer inside actually name their bags this and offer them at extremely low prices.