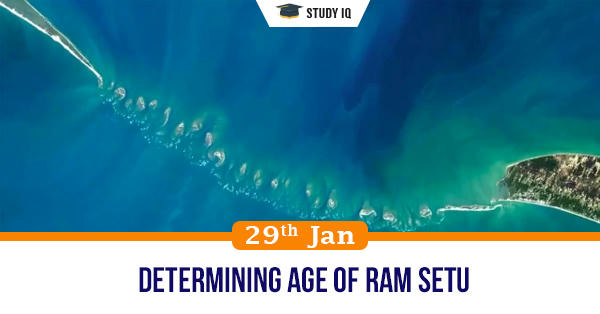 Determining age of Ram Setu
Date: 29 January 2021
Tags: Miscellaneous
Issue
Indian scientists will undertake a scientific expedition to date the chain of corals and sediments forming the Ram Setu.
Background
Ram Setu or Adam's bridge is a bridge-like structure between India and Sri Lanka which finds mention in the Ramayana but little about its formation is known or scientifically proven.
Details
CSIR-NIO will undertake a three-year scientific project. The idea is to see whether Ram Setu is a man-made structure or not.

The most important aspect of the project is to establish its age, scientifically. Once it is known, the information can be verified and co-related with its mention in the Ramayana and similar scriptures.

Carbon dating techniques, which are now available in India, will be primarily used to determine the age of the sediments.

Broadly, the explorers will apply a number of scientific techniques while attempting to date the Ram Setu, study its material composition, outline the sub-surface structure along with attempting to excavate remnants or artifacts.
Project plan
An initial survey will make use of underwater photographs to check if any habitation remains inundated in the area. A geophysical survey will be performed to understand the structure.

Initially, only physical observation, and no drilling, will be done. A scientific survey will be performed to understand the sub-surface structure.

The team will mainly comprise seasoned archaeologists, trained in diving, along with scientists to study ocean floors and perform seismic surveys.

As the locality around Ram Setu is shallow, with depth not more than 3 to 4 meters beneath water, the scientists will use local boats to ferry along the Setu. This is because large vessels or ships cannot sail at such shallow depths.
Ram Setu location
Adam's Bridge, also known as Rama's Bridge or Rama Setu, is a chain of limestone shoals, between Pamban Island, also known as Rameswaram Island, off the south-eastern coast of Tamil Nadu, India, and Mannar Island, off the north-western coast of Sri Lanka.

Geological evidence suggests that this bridge is a former land connection between India and Sri Lanka. It separates the Gulf of Mannar from the Palk Strait.