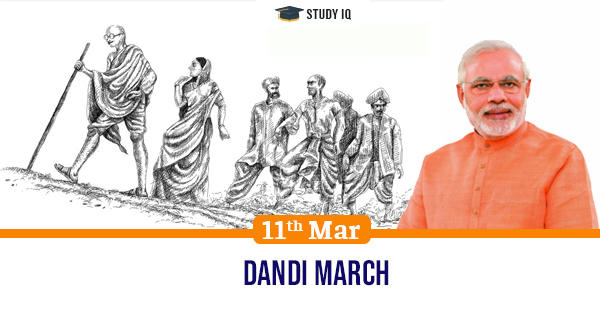 Dandi March
Date: 11 March 2021
Tags: Miscellaneous
Issue
Prime Minister Narendra Modi will inaugurate a symbolic 'Dandi March' on March 12 to mark the celebrations for the 75th year of Independence.
Background
The march is a part of celebrations known as 'Azadi ka Amrut Mahotsav', which aims to celebrate 75th year of Independence.
Details
The 2021 Dandi march will have 81 walkers follow the route in memory of the 78 who joined Mahatma Gandhi in 1930 from Ahmedabad to Dandi.

Descendants of individuals who walked the Salt March (in 1930) will be honoured but they will not been invited to participate in the march due to their age.

Events will be held in places associated with Gandhiji's life. This includes Porbandar, Rajkot, Vadodara, Bardoli, Mandvi and Dandi.

A similar movement was organised by the congress government in 2005 to commemorate the 75 years of the Dandi March.
Dandi March
The Dandi March was part of Gandhiji's non-violent protest against the British taxation on production of salt.

Gandhiji marched from Sabarmati Ashram to Dandi and at the end of the journey made his own salt and broke the law.

He then proceeded to Dharsana salt fields to address workers but was stopped and arrested by the British.

The Dandi march was a symbolic gesture by Gandhiji to inspire Indians to protests against unilateral rules of the British.

It aimed at challenging British imperialism regarding their laws that were unsympathetic as well as burdensome on public.