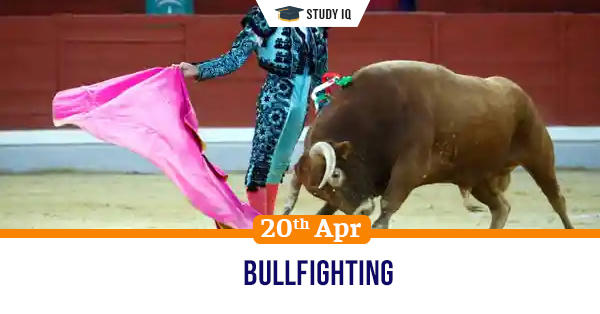 Bullfighting
Date: 20 April 2021
Tags: Miscellaneous
Issue
Bullfighting has come to the centre stage of politics as Spain is staring at a most anticipated election in the country in 2021.
Background
The elections is set to decide on the fate of Community of Madrid also known as "la lidia". They are one of the wealthiest in the country.
Details
Madrid's incumbent President has promised to increase subsidies and the opening up of bull fighting arenas after the pandemic forced them to close last year.

The challenger instead has been totally opposite to this proposal. He has promised to cancel "all aid" for bullfighting and give funds instead for animal protection.
Historical account
Bullfighting has a long history in Spain since Roman times. The current cape and sword form evolved in the 18th century.

Large farms are constructed in countryside to breed bulls and allow them to be raised free from human interference.

Bullfighting is considered illegal in most parts of the world but it is considered part of cultural legacy of Spain and Portugal.

Animal rights activists and left wing politicians are trying to put an end to the sport by cutting financial support.

The incumbent is portraying herself as the biggest defender of culture from communism. She has been using "freedom or communism" as a slogan.
Significance
The election for Madrid will be a crucial factor in deciding Spain's politics in future years.

It will also decide if cultural rights and animal rights go hand in hand or are exact opposite to each other.