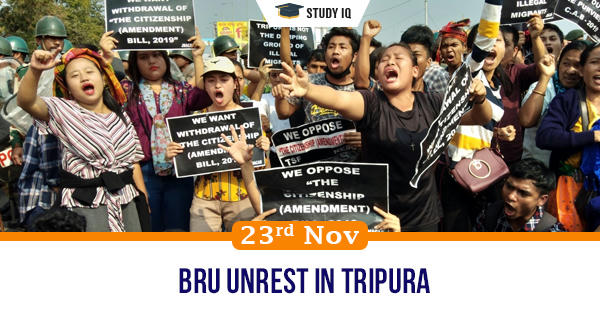 Bru unrest in Tripura
Date: 23 November 2020
Tags: Miscellaneous
Issue
The situation in Tripura remains tense after protests against the planned permanent resettlement of thousands of Bru migrants.
Background
An agreement was signed in January this year to allow Brus remaining in the camps of Tripura to permanently settle in the state.
Details
Bengali and Mizo communities in Tripura felt that settling would lead to a demographic imbalance, exert pressure on local resources and potentially lead to law and order problems.

Mizo Convention has paired up with the Mancha to create a platform called Joint Movement Committee (JMC) and proclaimed that not more than 1,500 Bru families would be allowed to settle at Kanchanpur.

According to the four-corner agreement for resettling them in Tripura, the central government announced a special development project with funding of Rs 600 crore.

Each resettled family is estimated get 0.03 acre of land for building a home, Rs 1.5 lakh as housing assistance, and Rs 4 lakh as a one-time cash benefit for sustenance, monthly allowance of Rs 5,000, and free rations for two years from the date of resettlement.
Bru
The Bru or Reang are a community indigenous to Northeast India, living mostly in Tripura, Mizoram, and Assam. In Tripura, they are recognised as a Particularly Vulnerable Tribal Group (PVTG).

They were targeted by the Young Mizo Association (YMA), Mizo Zirwlai Pawl (MZP), and a few ethnic social organisations of Mizoram who demanded that the Bru be excluded from electoral rolls in the state.

In October 1997, following ethnic clashes, nearly 37,000 Bru fled Mizoram to Tripura, where they were sheltered in relief camps.

Since then, over 5,000 have returned to Mizoram in nine phases of repatriation, while 32,000 people still live in six relief camps in North Tripura.