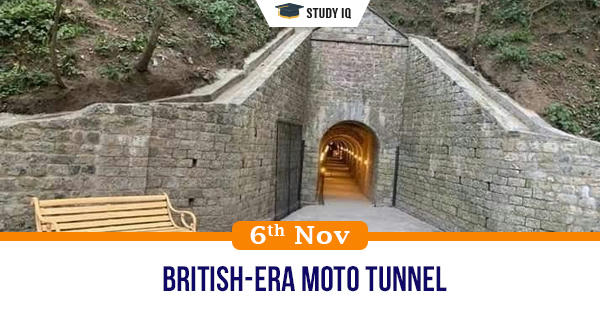 British-era Moto tunnel
Date: 06 November 2020
Tags: Architecture
Issue
Pakistan's Ministry of Climate Change opened the 129-year-old Moto Tunnel for tourists after its revival in Khyber Pakhtunkhwa province.
Background
The tunnel is part of the longer a walk through the forests in the Ayubia National Park of Khyber Pakhtunkhwa province in Pakistan.
Details
The 'Moto Tunnel' built by the British. A water pipeline runs through it and it was probably built to solve water problem in the nearby Murree.

The main track of the walk is 4-kms from Dunga Gali to Ayubia. The tunnel was constructed to connect Ayubia with Khaira Gali.

Since the water pipeline runs through it and the tunnel was used for water transportation, it is a completely flat walk through the tunnel.
Khyber Pakhtunkhwa
Khyber Pakhtunkhwa, formerly known as the North-West Frontier Province (NWFP), is one of the four provinces of Pakistan, located in the north-western region of the country along the International border with Afghanistan.

It was previously known as the North-West Frontier Province until 2010 when the name was changed to Khyber Pakhtunkhwa by the 18th Amendment to Pakistan's Constitution.

Khyber Pakhtunkhwa is the third-largest province of Pakistan by the size of both population and economy, though it is geographically the smallest of four.

Within Pakistan, Khyber Pakhtunkhwa shares border with Punjab, Balochistan, Azad Kashmir, Gilgit-Baltistan, and Islamabad. It is home to 17.9% of Pakistan's total population, with the majority of the inhabitants being Pashtuns and Hindko speakers.

The province is the site of the ancient kingdom Gandhara. Once a stronghold of Buddhism, the history of the region was characterized by frequent invasions by various empires due to its geographical proximity to the Khyber Pass.