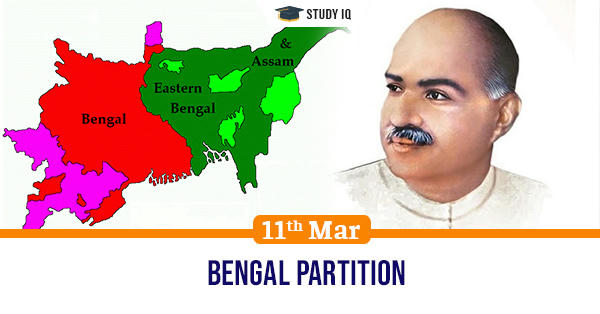 Bengal partition
Date: 11 March 2021
Tags: Historical Places
Issue
Bengal politicians are highlighting contributions of Shyama Prasad Mookerjee towards ensuring division of Bengal.
Background
The separation of West Bengal and East Bengal was a major event in Indian history. It sowed the seeds for partition of India.
Details
The Partition of Bengal (1905) was aimed at separating the large Muslim eastern areas from the Hindu western areas of Bengal.

Lord Curzon was the Viceroy of India during that period. The partition was reversed six years later in 1911.

The British stressed that the partition was for the purpose of better administration of the region but it was known that the measure was aimed at separating Hindus and Muslims.

The partition inspired Muslims to form their own organisation along communal lines to appease Bengalis and counter congress leaders.

The Congress party started the anti-partition movement, Swadeshi movement and Vande Mataram movement against the partition.
United Bengal Plan
Muslim League leader and prime minister of Bengal Huseyn Shaheed Suhrawardy had proposed a united Bengal Plan under which Bengal will be separate nation separate from India and Pakistan.

The Hindu Mahasabha put forward the demand for dividing Bengal on religious grounds as they felt United Bengal Plan was not in their favour.
Reason for opposition
Bengali Hindus felt that united Bengal will give powers to Muslim ruling class and push them towards the fringes. The communal award further strengthened the sentiments.

The communal clashes in Bengal grew manifold until the Partition and it was felt that an equal population of Hindu and Muslim would further aggravate communal clashes and thus partition of Bengal was supported.
Support for United Bengal Plan
Opposers felt that partition of Bengal would be an economic disaster for East Bengal since all jute mills, coal mines and industrial plants would remain on the western part of the state.

There was concern that the largest city and commercial capital of India, Calcutta would go to the western part of the state.