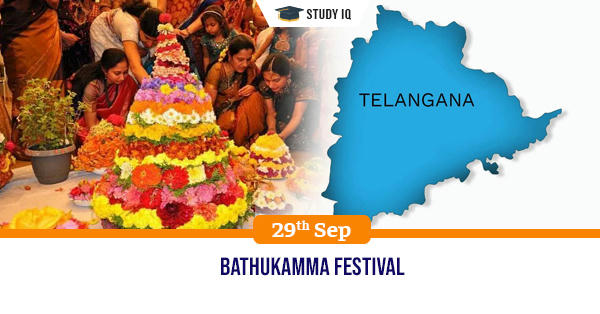 Bathukamma festival
Date: 29 September 2019
Tags: Festivals
Issue
Telangana Jagruthi, a cultural organisation affiliated to Telangana Rashtra Samithi (TRS), will organise Bathukamma celebrations at 300 places across the State.
Background
The government has also released plans for holding various activities on the occasion such as poetry reading and art workshops.
Details
Bathukamma is floral festival celebrated predominantly by the Telangana[1][2] and some parts of Andhra Pradesh.

Bathukamma is celebrated for nine days during Durga Navratri. It starts on the day of Mahalaya Amavasya and the 9-day festivities will culminate on "Saddula Bathukamma" or "Pedda Bathukamma" festival on Ashwayuja Navami, popularly known as Durgashtami which is two days before Dussehra.

Bathukamma is a beautiful flower stack, arranged with different unique seasonal flowers most of them with medicinal values, in seven concentric layers in the shape of temple gopuram.

In Telugu, 'Bathukamma' means 'Mother Goddess come Alive' and Goddess Maha Gauri-'Life Giver' is worshipped in the form of Bathukamma , the patron goddess of womanhood, Gauri Devi.