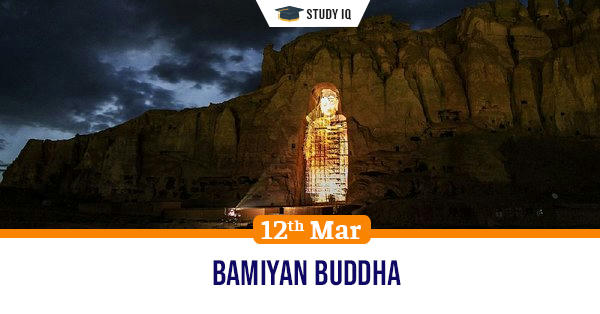 Bamiyan Buddha
Date: 12 March 2021
Tags: Miscellaneous
Issue
The Bamiyan Buddhas have been brought back to life virtually through 3D projections in an event called "A Night With Buddha".
Background
The Bamiyan Buddhas were one of the tallest statues of the world which were engraved on mountains. They were blown apart by Taliban during their rule in Afghanistan.
Details
The Bamiyan Buddhas were examples of confluence of Gupta, Sassanian and Hellenistic artistic styles. They wore Roman clothing and showed two different forms of Mudras.

The statues were one of the largest Buddha statues in the world and were called 'Salsal' and 'Shamama'. They were said to be male and female.
Significance
Bamiyan is located in the high mountains of the Hindu Kush range in the central highlands of Afghanistan. The area was one part of silk route and became a major Buddhist centre during the time of Kushanas.

Bamiyan Buddhas were not a single art form in the region. There were stupas, cave temples, wall paintings and smaller statues around the surrounding valleys.
Destruction
After the emergence of Taliban, they introduced Islamic practices, which included banning television, public executions, and lack of schooling for girls aged 10 and above.

As part of their idea of Islamisation, Taliban seeked to destroy any evidence or symbols of non-Islamic culture. Bamiyan Buddhas were the biggest such non-Islamic symbols.

Taliban leaders gave various reasons for wanting to destroy the Buddhas, includng pride in smashing idols in accordance with Islamic law and teaching people a lesson for diverting funds for humanitarian work.
Post-destruction
The act of destruction was criticised as a crime not only against history and culture of Afghanistan but also against human cultural heritage.

Subsequent efforts were made to re-construct the structure using the destroyed pieces but could not be done. Later, there were apprehensions on building such structures in an Islamic country which does not have value for old heritage.