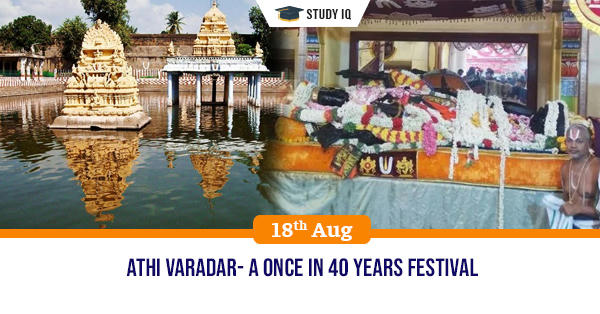 Athi Varadar- A once in 40 years festival
Date: 18 August 2019
Tags: Festivals
Issue
The Athi Varadar temple festival has come to close.
Background
The Athi Varadar temple festival is one of the unique festival which is held every 40 years. The idol of the deity is taken out and worshipped for a period of 48 days during that time.
Details
Every 40 years, the festival is celebrated at the Varadaraja Perumal temple in Kancheepuram.

The deity, Athi Varadhar will be brought up from the depths of 'Ananthasaras,' the tank at the Sri Varadharaja Perumal temple, and remained for darshan over the next 48 days. After the completion of rituals, the deity carved out of fig wood will be immersed in the tank and remain there for the next 40 years.

About 60 kilos of Sandhanadhi Thailam, containing, among other ingredients, saffron, sambrani, cardamom, jaadhikka, lavangam and other ingredients would be applied by the priests thrice to protect the idol from fungus and termite attacks. The idol will be placed inside a granite stone tub underground of the Ananthasaras tank.

Naga stones will be placed on the idol's shoulders, feet and hip to prevent it from floating up. Once the idol is placed inside the vault, priests predict rain that will help fill the tank up.