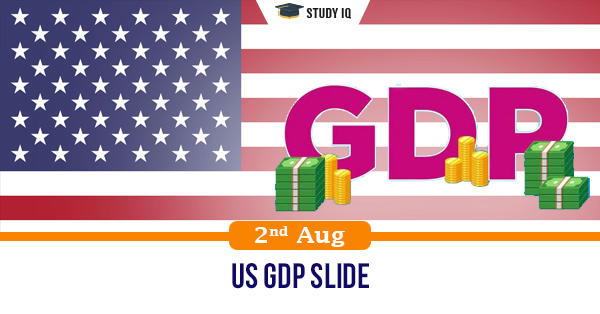 US GDP slide
Date: 02 August 2020
Tags: World Economy
Issue
The United States contracted by 33 percent in the second quarter, or a near 10 percent quarter-over-quarter decline— making it the sharpest GDP decline in the history of the world's largest economy.
Background
This is in sharp contrast to GDP data released by China, where growth in the world's second-largest economy has swung back sharply in the April-June quarter.
Details
GDP growth trends of the US and China show that the government's effectiveness in getting an economy back on track is dependent on its success in controlling the spread of the virus. The recovery in economic activity also depends on the quality of policy support.

Economists decoding the slide in the US GDP numbers point to a significant fall in consumption, the biggest component of American GDP that accounts for almost 70 percent of the economy.

Spending on goods and services is estimated to have fallen at a seasonally adjusted annualised rate of 35 percent in the second quarter.

Investments in buildings, equipment, and intellectual property also fell at an annual rate of 49 percent while exports plunged 64 percent.

The worrying news for the US is that the scale of this fall in the first quarter will be dwarfed by that in the second.

After many states lifted their lockdown orders in April and May, COVID-19 cases began a sharp climb in June, with the result that rebounding economic activity sputtered.

Both the US and China are driven by consumption with over two-thirds of US GDP and more than one-half that of China depends on it.

Other than the quarterly lag in the transmission dynamics, the big differentiator is with respect to the services sector and consumption trends.

While both economies rely on the service sector for a range of value-additions and output that contribute to their respective GDP, continuing restrictions have significantly hampered the return of such jobs in the US, especially in the catering, travel, and hospitality industries that account for a bulk of the urban jobs.

Such restrictions in the US have been geographically more widespread and longer-term, given the initial delay in responding to the spread of the disease, and fickle state government policies.

India's recovery plan is different from both the US and China. In India, the measures have been liquidity driven, with little burden on the Central exchequer.

It has been primarily focused on pushing banks to extend credit on the back of government guarantees to sectors that include small businesses, non-banking financial companies, microfinance institutions, and housing finance companies. A consumption boost in India's recovery is practically ruled out.