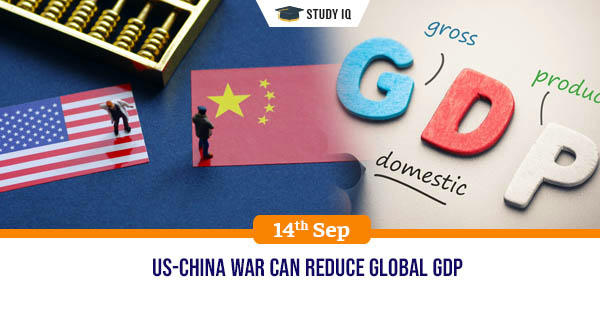 US-China war can reduce global GDP
Date: 14 September 2019
Tags: World Economy
Issue
Tariffs imposed or threatened by the United States and China could reduce 0.8% off global economic output in 2020 and trigger more losses in future according to the International Monetary Fund.
Background
The world's two largest economies, USA and China are preparing for new rounds of talks aimed at curbing a more-than-year-long trade war that has hurt global economic growth and rattled financial markets.

Details
The IMF lowered its 2019 global growth forecast from 3.3 per cent to 3.2 per cent, citing international tensions and the US-China trade war in particular.

World economic activity remained subdued, with trade and geopolitical tensions causing uncertainty and eroding business confidence, investment and trade.
Implications
The result is a large pullback in investment and along with that , price increases and ruffled consumers. This causes U.S. and global GDP to contract sharply.

The U.S. dollar appreciates as capital flight intensifies and emerging market currencies depreciate sharply. Investments in US may take a hit, which may lead to depreciation of US dollars.

Moody's forecasts that non-farm employment would be 793,900 lower by the end of 2021.