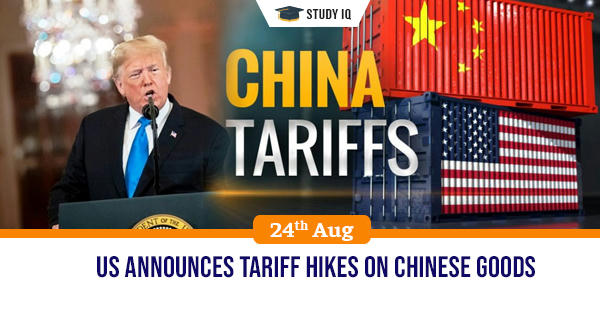 US announces tariff hikes on Chinese goods
Date: 24 August 2019
Tags: World Economy
Issue
U.S. President Donald Trump on Friday lashed back at a new round of Chinese tariffs by heaping an additional 5% duty on some $550 billion in targeted Chinese goods. This is a part of trade war between world's two largest economies.
Background
Mr. Trump has accused China of unfair trade practices and pushed for a deal that would rebalance the relationship in favour of U.S. manufacturers and workers

China unveiled its retaliatory tariffs on $75 billion worth of U.S. goods, prompting the President earlier in the day to demand U.S. companies move their operations out of China.
Details
United States has said it would raise its existing tariffs on $250 billion worth of Chinese imports to 30% from the current 25% beginning October 1.

Tariffs on the remaining $300 billion worth of Chinese goods to 15% from 10%. The United States will begin imposing those tariffs on some products starting September, but tariffs on about half of those goods have been delayed.
Effect on India and world
China will search for other markets where it can dump the products it exported to the US. India will provide a ready-made market for these Chinese products. The trade war will result in an increase in Chinese exports to India.

The trade war will adversely affect global trade and financial markets. IMF has predicted that a full-blown trade war would cause the global economy to slow down by more than 0.8% in 2020. This will lead to shrinking of Indian exports in the coming months, not only to the US and China but also to other countries.

This will negatively affect income and employment generation in export-driven sectors and downstream industries. Given the inelastic nature of Indian imports like dependence on oil, a slowdown in exports will result in a higher trade deficit.

This will lead to a further fall in the Indian rupee's value, exerting pressure on other macroeconomic indicators and depreciates currency.