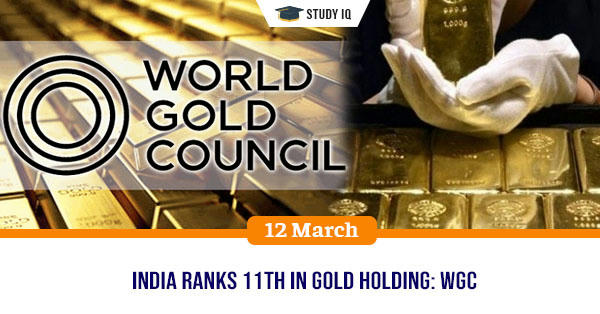 India ranks 11th in gold holding: WGC
Date: 12 March 2019
Tags: World Economy
According to latest report by World Gold Council (WGC), India is 11th largest gold reserve, with the current holding pegged at 607 tonnes. India is however, world's largest consumer of gold.
Highlights of WGC report
Top 10 Possessors of Gold reserves:

United States (8,133.5 tonnes), Germany (3369.7), International Monetary Fund (2814), Italy (2451.8), France (2436), Russia (2119.2), Mainland China (1864.3), Switzerland (1040), Japan (657), Netherlands (612.5), India (607.0), European Central Bank (504.8), Taiwan (423.6), Portugal (382.5) and Kazakhstan (353.3).

Asian countries:

Mainland China (not including Taiwan) and Japan hold largest reserves of Gold. Mainland China has reserves of 1,864.3 tonnes and Japan has 765.2 tonnes of gold reserves.

Gold Demand:

The appetite of central banks across the world for gold remains healthy following the multi-decade high in gold reserves growth in 2018.
The demand for gold was concentrated among emerging market central banks, with diversification key driver in face of ongoing geopolitical and economic uncertainty.
World Gold Council (WGC)
It is market development organization for the gold industry. It is headquartered in London, United Kingdom (UK).

It is association whose members comprise world's leading gold mining companies.

Functions:

It works across all parts of industry, from gold mining to investment. It seeks to provide industry leadership and stimulate and sustain demand for gold.

It also provides insights into international gold markets, help people to better understand wealth preservation qualities of gold and its role in meeting social and environmental needs of society.